26 Feb 2020
Top 6 Things to do in Calicut – Tyndis Calicut Tour
Kozhikode, also known as Calicut, is a coastal city located in Kerala that has many places of interest that is historically significant. Searching for Top Things to do in Calicut? At Tyndis we have to feature customized activities in Kozhikode. Design your Calicut Tour with our travel team depending on the time available and the interest of travel.
Calicut tour can be done on foot (Calicut Walking Tour) or guests can opt for our private Tyndis Tuk-Tuk Tour. This is among the top things to do in Calicut! Tuk-tuks, locally known as auto-rickshaws; is a great mode of transport to see around places of interest in any crowded ancient town or city in India.
Our tuk-tuk drivers are well-versed about the locality and the stories associated with the monuments and places. You can easily explore the by lanes of Kozhikode surpassing the traffic jams if you chose a tuk-tuk Calicut tour and reach your destination in no time.
A Land drenched in History and Heritage
There is not much known of the early history of Calicut except for some prehistoric rock-cut caves that have been found at many places in the district. But during classical antiquity and the Middle Ages, it was the capital of an independent kingdom ruled by the Samoothiris (Zamorins) for nearly 500 years. This city in the Malabar region was famous for its centuries-old trade in spices like black pepper and cardamom and a fine variety of hand-woven cotton cloth known as 'calico'.
There is evidence of Arab and Chinese merchants having trade relations with this region as early as the 7th century. Two-century old crumbling piers stand out from the sea at Kozhikode beach as a witness to once-thriving port here. But it was when Portuguese explorer Vasco da Gama landed at Kappad port in Kozhikode on 20 May 1498, that Europeans began trading and later on started ruling the Malabar region. Experience these heritage stories in Tyndis Calicut Tour.
Here is a list of seven places you can visit and activities in Kozhikode you can engage in, on your Calicut tour.
1. Calicut Heritage Tour
This is a quick half-day Calicut tour to see around the top heritage tourist places in Calicut – giving an overview of the heritage of this city. This Calicut walking tour showcases few iconic monuments and the major heritage points of Kozhikode like the Calicut lighthouse, Calicut beach, Valiyangadi Market where wholesale trade flourished since ages and Mishkal mosque with plenty of woodwork and beautiful motifs that was built in 14th century by a Muslim trader. Calicut Walking Tour is one of the top things to do in Calicut.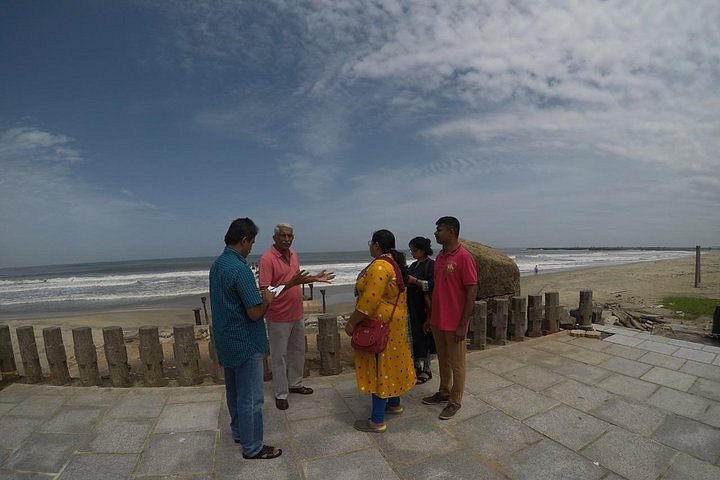 The core wholesale business was once limited to Valiyangadi (Big Bazaar) near the railway station. But these days, Mittai Theruvu (S.M. Street), is the main crowd puller as this street houses restaurants, sweet shops, shopping malls and shops that sell everything that you can think of. Calicut walking tour moves through these shopping hubs of Calicut. Tourists can buy souvenirs for their Calicut tour from these streets. Exploring these market streets is one of the interesting activities in Kozhikode.
If you are good at imagination, relive the past while listening to the stories from our Tyndis storyteller while travelling along the historic routes those traders from various West-Asian and European Countries took during the spice trade.
Calicut beach is easily accessible from the city and provides a good view of the setting sun and a variety of street food. There is a Marine Life Aquarium and a Science Planetarium close by.
Mananchira square in the city centre is a beautiful green park with the palace tank of Samoothiri Mana Vikrama, a musical fountain, few sculptures and encircled by landmark buildings.
If ancient mural paintings, antique bronzes, old coins, models of temples, and megalithic structures interests you, there is a good collection on display at Pazhassi Raja Museum located on the East Hill, which is about 6kms from the railway station. Next to the museum is an art gallery displaying paintings of Raja Ravi Varma. It is one of the best heritage museums in North Kerala.
2. Flavours of Calicut
Kozhikode is a city much loved for its cuisines and aromas. Kozhikoden Halwa in many colours jazzed up with chopped nuts, crisp and wafer-thin banana chips, Malabar biriyani, ghee rice with meat curry, sea-food preparations with paper-thin pathiris as an accompaniment are just some of the must-try items when you are in the Malabar region.
Tyndis organizes biriyani making Calicut tour wherein you can visit an expert, experience the hospitality rendered, see how they prepare the celebratory meal and enjoy having it along with your host. Experience street food is one of the exciting things to do in Calicut.
3. Mangrove Trail in Kadalundi River
During high tides, if the weather is pleasant, we take our guests to tour the Mangrove forests on a boat. This Calicut tour features an island under the Kadalundi Community Reserve. Storytellers who are passionate about conserving the magical Mangrove forests will accompany you to share stories of movements that happened in the region to protect Mangroves and the importance of these forests in the ecosystem.
Mangrove Tour is Calicut is one the best things to do in Calicut for nature lovers. Learn about the nine types of Mangroves grown here and even take part in the planting of Mangrove Saplings. The place is also home to around 100 varieties of birds. Photographers can manage a handful of beautiful clicks as well. Tyndis Mangrove Tour is the best choice for things to do near Raviz Calicut Resort. Get in Touch to book this Calicut tour near Raviz Calicut.
4. Sargalaya Crafts Village Visit in Vatakara
Sargaalaya is an ideal destination for tourists who wish to see all the crafts of Malabar under one roof. This was formed with the mission to empower Kerala's traditional artists and craftsmen, to preserve the art and craft and to create awareness about the rich heritage to tourist fraternity.
Sargaalaya offers a live display of craftsmen at work for craft enthusiasts to have a closer look at every aspect of manufacturing art and even attend workshops to learn about the art. Pedal boating and an aquarium within the premises are added attractions. If you are a crafts lover, then Sargaalaya visit is one of the top things to do in Calicut in your Calicut tour.
5. Beypore Storytelling Tour
It is said that the sturdy wooden barges that sailed across the Suez Canal during the reign of Cleopatra were made at Beypore. About 10 km from Kozhikode lies Beypore, a cosy coastal town at the mouth of the energetic Chaliyar River. This town was known as Sultan Pattanam during the reign of Tipu Sultan. Traders from the Middle East used to frequent Beypore Port in ancient India. This place is renowned for the construction of Beypore Uru and Dhows, the traditional Arabian trading vessel.
The 1500-year-old craft of shipbuilding is carried out carefully by the expert craftsmen who pass the knowledge of computation orally to their successors. Though the number of workshops has reduced, a handful of them still exist.
If you are keen on getting a glimpse of some ongoing work at the yard or visit the Feroke Tile Factory to understand the process of tile making we can include them in your Calicut tour through Beypore. The serene beach and the two-kilometre long stone bridge leading to the sea is a major attraction here. Don't forget to add Calicut walking tour in Tile factory to your must things to do in Calicut.
6. Kappad Visit
Kappad was considered as the gateway to the Malabar Coast by the European merchants who flocked to the Malabar for the Spice Trade. This place is popularly regarded as the port that Portuguese explorer Vasco da Gama landed in India. A stone monument is erected on the beach to commemorate the significant event. However, historically, it is a different place near to Panthalayani Kollam that Gama first set foot on. The beautiful beach in Kappad, less crowded than Calicut beach, is also safe for swimming and a great place to view the sunset.
Once you take this Calicut Tour with Tyndis, you will be able to appreciate our rich heritage, culture and past much better. So Book your Calicut Tour right away and experience the exciting things to do in Calicut!