10 Mar 2020
Top 15 Most visited Kerala Tourist Places: Kerala Tourism
Top Kerala Tourist Places to visit:
As a tourist, some of us like exploring offbeat locations but most of us like to visit popularly known tourist destinations. Here is the Tyndis list of 7 clichéd but most loved and most visited Kerala tourist places:
1. Fort Kochi Tourist Attractions
With 32 communities living here and speaking at least 16 languages, Fort Kochi is a melting pot of cultures. Known for the iconic monuments of Dutch, Portuguese and British colonial origins, there are several heritage sites of tourist interest in this town. The Paradesi Jewish Synagogue built in 1568, Dutch Cemetery built in 1724, and the Dutch Palace in Mattancherry, Church of Saint Francis – the first European church in India, Santa Cruz Cathedral Basilica – a Roman Catholic Church, and Jain Temple are some of the major landmark buildings. These are some of the top-visited Kerala tourist places.
Having a seaport at Kochi, several outbound cruise ships have a halt here. It is an ideal place for tourists to explore on a tuk-tuk. If you have time by your side, then opt for a laidback holiday at Fort Kochi exploring the street-side eateries, the spice market, the Chinese fishing nets, and the Biennale art festival that is held every two years or watch a Kathakali dance performance.
2. Munnar Tourist Attractions
Munnar is a popular hill-station of Kerala where you can refresh and relax in the lap of Mother Nature. Sprawling tea plantations perched at an altitude of 1600 metres and Madupetti, Nallathanni and Periavaru rivers flowing through Munnar, offers a picturesque view of the hills, breathtaking natural view-points and boating facility. The process of tea making can be seen at the Tata Tea Museum located near Nallathanni Estate of Tata Tea.
One of the main attractions near Munnar is the Eravikulam National Park. This park is home to the Nilgiri Tahr, several species of rare butterflies, animals and birds. Neelakurinji is a flower endemic to this part of the Western Ghats which blooms once in twelve years. During the flowering season, the hill slopes look as if a blue carpet is laid out. This flower will bloom next in 2030. The highest peak in South India – Anamudi, is located inside the Eravikulam National Park. With prior permission from the Forest and Wildlife authorities at Eravikulam, tourists can go trekking here. Caressed by blankets of mists, trekkers can enjoy the magnificent view of the tea plantations below.
3. Kumarakom Tourist Attractions
Kerala trip is definitely incomplete without a backwater cruise on a houseboat. The Vembanad Lake in Kumarakom is an ideal place to take some time off, sit back and soak in the tranquility of the place, while your boat glides along with the intricate web of lagoons, lakes and rivers. This enchanting backwater destination offers visitors many other leisure options such as a reviving Ayurveda massage, a village tour, watch a Kathakali performance, and visit Kumarakom Bird Sanctuary, museums and Aruvikuzhy Waterfall.
The pristine water of the beach here is an adventurer's paradise with various activities such as water skiing, windsurfing, snorkelling, boating and parasailing. You may try out a game of volleyball, yoga or meditation on the beach.
Kerala tourism has been winning several international awards year after year for its Responsible Tourism Mission activities in Kumarakom. As part of promoting 'Responsible Tourism' with the support of state government, many micro-enterprises have set up units for vegetable cultivation, fish processing, pappad making, chapatti making, chicken processing, souvenir making, etc. As a tourist, you can visit these enterprises and buy some of the products directly from them.
4. Wayanad Tourist Attractions
Wayanad, a picturesque plateau is famous for its hills, mountains and forests. Tribal villages of Wayanad have a rhythm of their own. There are lots of tourist places in Wayanad like the adventurous trekking trails of Chembra peak amid the beautiful valleys, Kuruva Island surrounded by River Kabini, Muthanga wildlife sanctuary, Pazhassai Raja tomb, breathtaking waterfalls such as Meenmutty waterfalls, Chethalayam waterfalls and Soochipara waterfalls to name a few, the scenic views of Lakkidi, Pookode lake, Edakkal cave, Karapuzha dam, and so on.
It is believed that the forest in Wayanad is nearly 3000 years old. Interacting with native people from the tribal village and getting immersed in their folk stories or a visit to the heritage museum will help you to understand the culture and tradition of these Kerala tourist places. Wayanad gives us a chance to have hands-on experience of various activities in village life, be one with nature and feel out of this world.
Kannur is known as the 'land of Looms and Lores' because of the well-organised handloom industry in the region like the one at Chirakkal. Kannur has been a cradle of Dravidian folk art. Folk dance practised by native tribal communities such as Theyyam is a 1500-year-old tradition. The land is blessed with natural beaches, rivers, backwaters, and historic monuments. It is one of the best heritage-themed Kerala tourist places.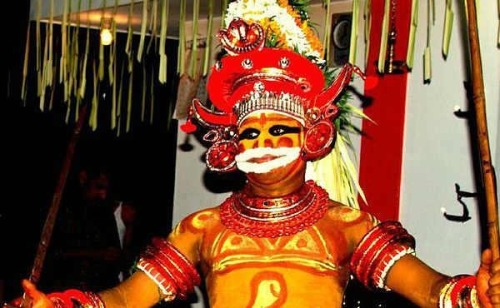 In ancient times, when Kolathiri rajas ruled Kannur (formerly Cannanore), the town was a prosperous port bustling with traders from a foreign land. Explorer Marco Polo christened this town as a 'great emporium of spice trade'. In time, the Portuguese, Dutch and British fought to monopolize the spice trade here. They left their mark in the form of a lighthouse, churches and the St. Angelo's Fort. The Arakkal Palace situated here was the seat of the royal residence of Muslims in Kerala. Today, the palace is turned into a museum.
Kannur boasts of having the longest drive-in-beach (Muzhappilangad beach) in India and many untainted beaches such as Payyambalam, Thottada and Azhikode to name a few. For the adventure lovers, there is Dharmadam Island – a secluded and tranquil picnic spot covered with a canopy of coconut palms and dense bushes where you can go kayaking in the ocean.
6. Kozhikode Tourist Attractions
The coastal city of Kozhikode, formerly known as Calicut, was a significant spice trade centre in ancient times. This northern district in Kerala has quite a few places of historical significance like the Valiyangadi market where the wholesale trade flourished since ages, the lighthouse near the Kozhikode beach, and the beautiful Mishkal mosque that was built in 14th century by a Muslim trader who visited this town. But these days, Mittai Theruvu (S. M. Street) is the shopping high street that is a major crowd puller with well-known restaurants, sweet shops and shopping malls.
Not far from here is the Kappad port, which was considered as the gateway to the Malabar Coast by the European merchants who flocked here for spice trade. Opposite to this beach, a stone monument is erected to commemorate the historical event of the arrival of explorer Vasco de Gama in India. The beautiful beach here is safe for swimming and a great place to view the sunset.
7. Kovalam Tourist Attractions
Kovalam is an internationally renowned beach in the southern tip of Kerala attracting thousands of tourists every year. Lighthouse beach, Samudra Beach and Hauwa beach (separated by rocks) together form the 17 km crescent-shaped Kovalam beach. Among the three, Lighthouse beach in Kovalam is the most crowded and has black sand. Sunbathing, swimming, Ayurveda massages, special cultural programmes and catamaran cruising are some of the leisure activities tourists can engage in.
Accommodation options in all budgets are available here. The restaurants here serve a variety of cuisines like the Continental, Chinese and Indian. Moreover, Thiruvananthapuram, the capital city of Kerala, is just 16 km away from Kovalam. It is one of the most preferred Kerala tourist places.
Here are a few Kerala tourist places that we recommend, which is fast getting added to the above list of top-visited Kerala tourist places:
8. Varkala Tourist Attractions
Varkala is the best cliff beach in India, located about 50kms from Thiruvananthapuram. Pristine beaches, hills, lakes, forts, lighthouse, natural fisheries and springs, together make this town popular among tourists. Many tourists increasingly prefer Varkala over Kovalam, as the beaches here are less crowded and has less of black sand compared to those in Kovalam.
Varkala is also an important Hindu pilgrimage centre and often referred to as Dakshin Kashi. People offer prayers at 2,000-year-old Sree Janardhan Temple and the Narayanswami Samadhi temple here and carry out the last rites of their close ones at the Papanassam beach at Varkala.
For lodging option, Varkala has affordable resorts, hostels and shacks. At the cliff, there are joints that serve great seafood, and for shopaholics, there are quite a few shops that sell a variety of handicrafts. Varkala today is one of the top players in the list of most visited Kerala tourist places.
9. Munroe Island Tourist Attractions
An archipelago of eight islands, Munroe Island is a delta formed where the River Kallada joins Ashtamudi Lake, in Kollam. This Island was named in honour of the great British administrator – General John Munro who served as Resident and Diwan of the States of Travancore and Cochin between 1810 and 1819.
It is a great place to go on a canoe tour along the backwaters and the canals to experience village life and watch the raw beauty of nature. You can take a village walk through the coconut farms, banana and paddy cultivation, rubber and spice plantations and go bird watching. Most of the locals engage in prawn breeding, boat building, sand mining, duck poultry farming, oil extraction, and coir making.
Today, it is referred to as the 'sinking island' as it fits as a model showcasing terrifying consequences of global warming and the government is encouraging this place as a tourist spot to learn on disaster management. It is believed this island will be completely submerged underwater by 2050. So, enjoy the beauty of this quaint village while you can!
10. Nileswaram Tourist Attractions
Nileswaram town lies between two rivers called Neeleshwaram River and Thejaswini River. The town is home to a palace, folk arts, temple festivals, kavus (sacred groves) and ancient market. At Kottappuram you can hire a houseboat and go on a backwater cruise relaxing and watching the beauty of the palm-fringed shoreline.
At Cheruvathur fishing harbour, you can go trekking on a hill nearby or take a stroll by the beach. Watch the ritualistic trance dance like Theyyam held at temple grounds, meet the artisans on the Weavers' Street, interact with the locals or visit Kammadam Kavu – a sacred grove that is well-preserved with 60 acres of forest with rare birds and animals and an ancient temple.
11. Mahe Tourist Attractions
Mahe town looks beautiful as it is on the estuary of the Mayyazhi River and the Arabian Sea. Though Mahe is located in Kerala, it is a district in Puducherry, which is a Union Territory. The reason being, Mahe was part of the French colonial rule for nearly 232 years and got its freedom only in July 1954. To take this fact in a positive light, Mahe found a place in the geographical map of India only after the French chose to settle here.
Today, Kerala and French culture have so seamlessly intermingled in Mahe that the French influence in Mahe is limited to the French colony, few French street names, colonial buildings, a 200-year-old French school and French-style kepi hats adorned by the police force. There are about 70 French citizens living in Mahe, mostly retired soldiers who cast their votes during French elections and celebrate Bastille Day.
12. Cherai Tourist Attractions
Cherai is one of the most visited beaches in the state because of its proximity to Kochi airport. It provides a peaceful holiday away from the hustle and bustle of city life. Cherai beach looks picturesque with the Chinese fishing net, the green paddy fields and the coconut groves in the vicinity. At times dolphins are sighted here where the sea and the backwaters meet. The tide is mostly low at this beach, which makes swimming, sunbathing and picking novel sea shells as popular activities.
There is a water sport activity centre wherein tourists can engage activities such as a banana boat, speed boat, water scooter and surfing. For lodging, both expensive and reasonable options are available.
13. Athirappally Tourist Attractions
Athirappilly Falls located in the Thrissur district is the largest waterfall in Kerala. The Chalakudy River that is generally calm gets more tumultuous as it nears Athirapilly. The setting of dense green forests that surrounds the falls add more charm to the outstanding landscape, and finally, the falls cascade down from a height of 80 feet around the big rocks. It looks stunning, especially during the monsoon months. The forest is home to many endemic species of flora and fauna. In the vicinity, other attractions are Charpa and the Vazhachal falls, Thumboormuzhi dam and a garden.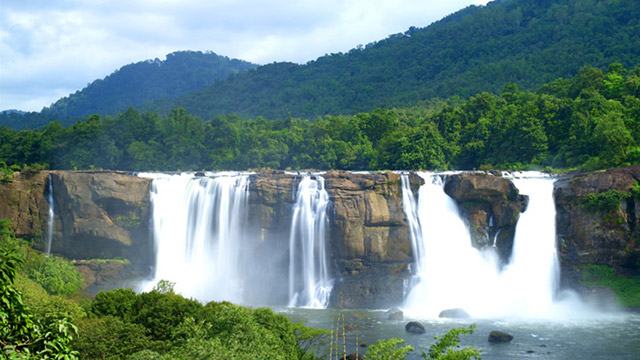 14. Chinnar Tourist Attractions
Chinnar in Idukki has a wildlife sanctuary that is home to dry deciduous trees, grasslands, and many endangered species of animals such as the great grizzled squirrel and star tortoise. Chinnar Wildlife Sanctuary is a unique protected area located in the rain shadow region in the eastern slope of Western Ghats, adjoining Tamil Nadu. The area is diverse in ecosystems and rich in ethnic cultural heritage. The sanctuary is home to more than 1000 species of flowering plants, tufted grey langur, gaur, spotted deer, vipers, slender loris, wild elephant, crocodile, tiger, leopard and many birds, insects and medicinal plants. Very near to this sanctuary is a beautiful Sandalwood forest.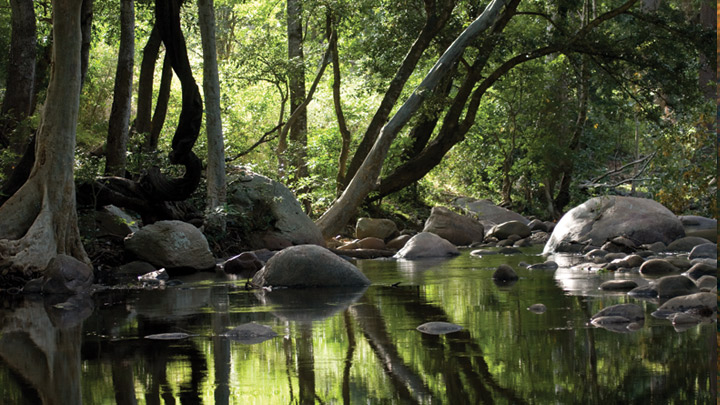 The rugged setting of the Chinnar Wildlife Sanctuary entices adventure junkies to go trekking around the foothills of the forest. It is one of the best Kerala tourist places for eco-tourism activities.
15. Bekal Tourist Attractions
Located in Kasargod district of North Kerala, Bekal offers a beautiful sunset view, beaches, sea, and swaying palm trees. Bekal beach is popular for its backwaters, forts and scenic beauty. A short ride in the traditional boat – Kettuvallam is a wonderful idea too. Adjoining the beach is the Bekal Fort, the largest fort in Kerala. It is a well-preserved majestic heritage site overlooking the Arabian Sea.
It is incredible to watch the mesmerizing sunset from the top of the fort as well as from the beach with the silhouette of the fort. The well-lit walkway gives a panoramic view of the Bekal Fort and the scenic coastal line. Bekal Fort in Kasaragod is one of the most visited Kerala tourist places towards the North.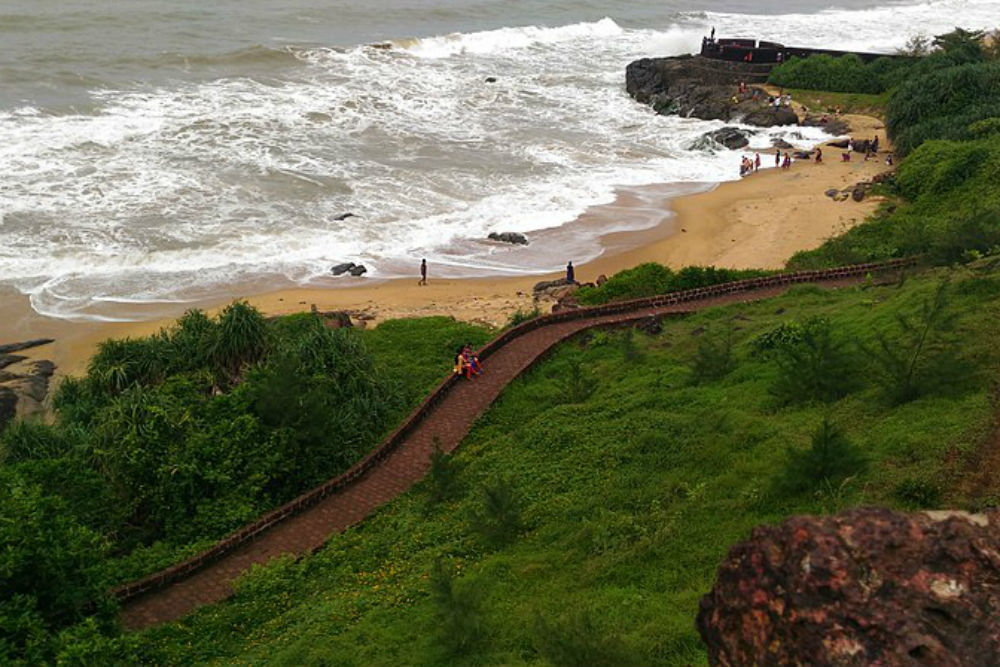 A set of 45 caves known as the Nityanandashram caves, temples, mosques, and an aqua park are other major attractions. In the month of January and March, you may get to see the ritual dance performance of Theyyam.
Travel through the Top Kerala Tourist Places with Tyndis! Experience the unique storyteller tours offered by Tyndis in these places. Get in Touch with us for more details about your holiday in Kerala.