21 Mar 2020
Top 13 Kerala Souvenirs: Things to buy from Kerala | Shopping in Kerala
Kerala Souvenirs: Memories of your Kerala Tour
Every guest of Tyndis Tours accumulates a lot of happy memories throughout their journey. Have you observed that much later after your travel; the scent, the sound and the music we have heard there, the people we have met and the feelings aroused in those moments linger in our memory.
These aspects that we tend to associate with a place are personal experiences that are not easy to share with another or record anywhere. It remains within us. This is why many of us like to take travel souvenirs home, to give a glimpse of your fantastic experience and something for you to look back and reminisce about your trip. Kerala Souvenirs are some of the best forms of art, craft or natural products.
We all love collecting curios that are unique to a place that we visit. The easiest way to pick souvenirs is to go to a souvenir shop and buy something in kind.
Creative ways to remember a trip
Before we list out some of the popular Kerala Souvenirs to take back from you Kerala Tour as Souvenirs from Kerala, let us look at some creative ways to remember your trip.
Rewind and jot down
Once you are back from the trip, run through your memory and write about all the interesting people you have met in your tour, unique things you observed or music you heard in your trip. It's fun rewinding the entire trip.
Travel scrapbooking
Taking a cue from Ranbir Kapoor in 'Yeh Jawani hai Diwani' movie, you too can have a priced possession of travel scrapbook. This travel movie rightly portrays the need to travel. To make you travel memory last longer, gather as many mundane things throughout your trip, like bus or train tickets, museum passes, travel tour badges, shells from the beach you visited, takeaway menu or a tissue paper of a restaurant, all throughout your journey and stick them in your travel scrapbook.
From carefully watching the locals getting hold of their lungisto discovering a culturally intriguing way of life, the southern part of India is a photographer's paradise as he gets to shoot natural beauty all around along with the stereotyped Indian experiences.
Using Polaroid Zip you can instantly take 2*3 inch prints of the clicks that you took on your phone. These photographs can then find a place in your scrapbook too. Writing little notes below each curio will make it easy on your memory while you go through the book later.
Likewise, dedicate another set of pages of your scrapbook to a new place you visit. This personalized collection of mementoes will be one of its kinds.
Create a video
Every trip leaves us with a huge stash of photos. It is a great idea to condense the entire trip by creating a short video using a few selected pictures. You may share this on social media with your friends. This is one of the best modern forms of a travel souvenir or memoir!
Blogging
If you love writing, then blogging is a great way to preserve travel memories and share your unique experiences with your readers.
Kerala Souvenirs: Shopping in Kerala
Now for all those who find these creative work time consuming, here is a quick rundown on how to go shopping in Kerala to buy your souvenirs from Kerala:
Cultural travel souvenirs from Kerala
Theyyam and Kathakali handicrafts are top Kerala Souvenirs. These are traditional dance forms of Kerala, known for its unique make-up and costume. You get these wall hanging masks done on wood, metal or papier-mâché. Similarly, imitation of glittering ornament worn on the forehead of the elephant called Nettipattam can be bought as a wall hanging.
If you fancy bio-degradable products, then coir products like coir bottles and doormats made from the fibres extracted from the husk of coconut are widely popular things to buy from Kerala.
Other eco-friendly things to buy from Kerala is coconut shell art products like table lamps or utensils such as bowls, cups, and ladles, sold on the streets.
In the past, the Royal families used to secure their valuables in a wooden casket known as Malabar box. Available in various sizes and made in a variety of wood, you may have one as a jewellery box. It is one of the best Kerala Souvenirs.
Aranmula Kannadi is one of the best things to buy from Kerala. These Kerala Souvenirs are metal mirrors made exclusively by a family in Kerala who keeps the composition of the metallic alloy a secret. It is not the typical silver glass mirror that we see usually. Believed to bring prosperity, it is best to buy it directly from the family workshop.
Travel Souvenirs from other parts of South India
Thanjavur, aculturally rich town in Tamil Nadu is known for its dancing dolls. The beautiful dolls handmade and finished with fine details and well known for its elegant movements.
Miniature artefacts and statues carved in rock is something you can buy from Mahabalipuram in Tamil Nadu.
On the streets close to the beaches you see small vendors selling articles made out of seashells like necklace, handbags, figurines and much more. Try out these beautiful travel souvenirs!
On the streets of Pondicherry, you can find innovative ceramic objects. For handmade paper articles prepared out of rag pulp of cotton visit Aurobindo Ashram factory outlet.
Sandalwood articles, Karnataka
Carved artwork in Rosewood, Karnataka
Home décor items in Bidri Metalwork is art from Karnataka
Your trip to Telengana will remain incomplete without bringing home the best quality of Hyderabadi pearls.
Wooden Kondapalli Toys are an art form from Andhra and Telangana. They are niche figurines and carved statues made out of wood and glued with tamarind seed paste. Vegetable dyes are used for colouring these toys.
Painting Souvenirs from Kerala
While going shopping in Kerala, checkout for these exquisite arts can definitely add more beauty to your home décor:
Walls of ancient temples, palaces and churches of Kerala can be seen adorned with mural arts depicting mythology and legendary stories. This art was painted using dyes extracted from plants or other naturally available items. Murals are some of the best things to buy from Kerala. You may either buy a framed mural art or buy a mural-worked saree in acrylic for your Kerala Souvenirs.
A magnificent 16th-century style of painting characterised by a dense composition, surface richness, vibrant colours, the glossy finish of the gold leaf studded with semi-precious stones, Tanjore Paintings is one of the most celebrated forms of art in South India.
Edible Souvenirs
In earlier times, every nation tried to colonize India to have a monopoly over the spice trade. So if you are out shopping in Kerala, then don't miss out pepper, cardamom, cloves and cumin from the government-owned Spices Board outlets. These are possibly the best Kerala Souvenirs.
Other top edible things to buy from Kerala are tea leaves. If you are visiting the tea plantations of Munnar then do buy tea from the factory outlet or if you are staying in a hill station with coffee plantations around, then pick a pack of world-renowned Monsooned Malabar Coffee that is rich in aroma, taste, and colour from the certified counter in the coffee estate. The cost varies with quality. Tea leaves are ideal Kerala Souvenirs for tea lovers.
Eucalyptus oil, clove oil, almond oil, camphor oil, lemongrass oil and many aromatic oils are grown and extracted in the hill stations of South India are other top Kerala Souvenirs.
Textile Souvenirs from Kerala
Handlooms are inseparably woven to the unique culture of India. Saree is an elegant attire to add to your wardrobe. Each state has its own type of cotton or silk saree. You may visit any handloom or textile shops to explore the variety of designs available. Besides sarees, handloom stores also stock handmade soaps, shirts, dhotis, towels, cushion covers, and much more.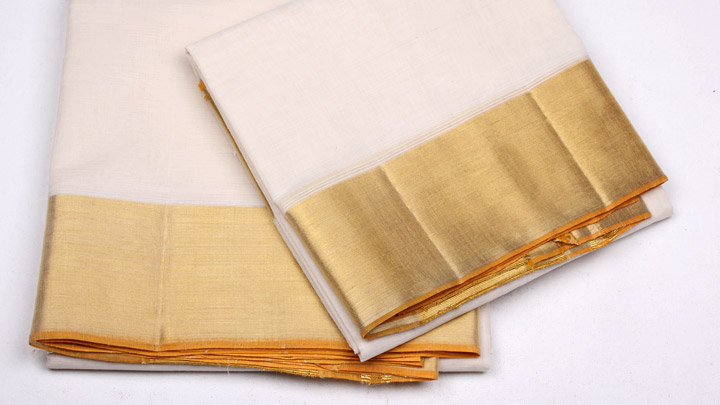 Kerala has its traditional beige sari, woven from fine cotton and edged with gold and copper jari. Kerala Handloom Fabrics are ideal Kerala Souvenirs to gift your loved ones.
Textile Souvenirs from other parts of South India
Mysore silk from Karnataka
Pochampally Sarees known for its simple geometric patterns are available in cotton as well as silk. This product can be bought from the government emporiums or shops in Pochampally village in Telangana.
Kanchipuram Silk Sarees are famous for their detailed design and grace. Worn on weddings and auspicious occasions, these sarees are expensive. In many families, exquisite Kanchipuram silks are passed on to daughters as a family heirloom. The livelihood of around 5000 families in Kanchipuram in Tamil Nadu is based on the silk weaving practice. It is available in almost all big textile shops even in Kerala. It is often bought as Kerala Souvenirs by tourists along with other items.
Now that you know both creative and run of the mill ways to collect your souvenirs from Kerala, embark on your journey with Tyndis and get back home with a treasure trove of memories from your beautiful Kerala Souvenirs.
Fill in this Enquiry Form and we will get back to you with a tailor-made travel package to suit your interest and budget.