05 Apr 2020
Goa to Kerala Tour: Konkan To Malabar Tour Package
Keen about travelling through India to explore the soul of the country? Do not miss out this Goa to Kerala Tour covering the Konkan Malabar Tour through the Konkan and Malabar Coastline. Usual Indian package tours tend to take the much-travelled routes along the Golden Triangle, South Kerala, Monuments of Rajasthan, etc. Mostly, all of these just include sightseeing tours, luxury hotels, shopping and lots of photo posing Go on a best experience of South India Tourism
Tyndis doesn't believe such a way of travelling. We believe in a journey that helps you experience the culture and traditions of the place you visit. Get to know the life of the people you meet. Cultural interaction and exchange of stories are the highlights of each Tyndis South India tour.
Throughout this South India Tour, one can experience the unique stories connected with Konkan and Malabar provinces. Konkan Malabar Tour features unexplored destinations from Goa to Gokarna, Gokarna to Udupi with serene and secluded beaches, popular beaches like Palolem and Om Beach and Goa party beaches, top things to do in Gokarna, lush mountains and valleys of the Western Ghats, majestic waterfalls, emerald backwaters, abundant wildlife, and more in the Konkan Malabar Tour.
Experience all the flavours of South India in this Goa to Kerala Tour – right from History and Heritage of Ancient Hindu South India Temple of Kollur and Udupi Temple, Indian Temple Architecture, Arts and Crafts, Food, Leisure with Houseboat Cruise and Beach Resorts, Meditation, Yoga and Ayurveda, Monsoon in India, Village Experiences and Local Interactions. Go on a holistic experience of the Western Coast of South India Tourism
Where is 'Konkan' and 'Malabar'?
Rugged in the western coastline along the Arabian Sea, the Konkan coast includes parts Maharashtra, Goa and parts of Karnataka. The word 'Konkan' roughly translates to a piece of earth lying around the corner. The myth behind the formation of Konkan somehow happens to be the same that connects with the creation of Kerala by Lord Parashurama, down from the depths of the ocean! The word 'Konkan' certainly describes the geography of the region. But however, it doesn't fail to precisely mention all its beauty. Tyndis Konkan Malabar Trail explores the enticing beauty of Goa to Kerala region under this belt.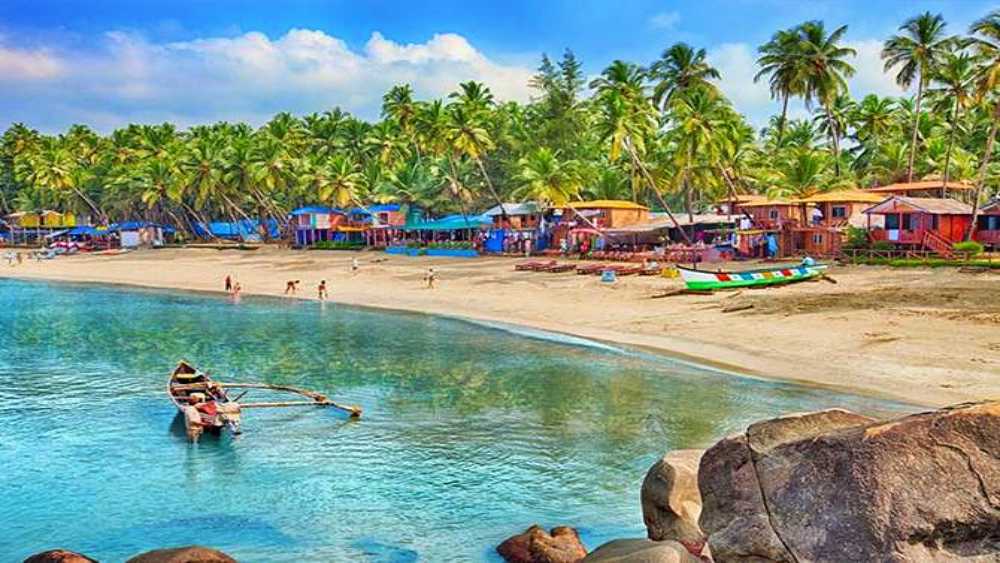 In today's India, Konkan is a paradise between the two rivers of Daman Ganga in Maharashtra down till the Gangavalli River in Karnataka. And to just about anybody's surprise, the ancient Sapta Konkan region was even longer, starting from Gujarat and running down till Malabar coastline of Kerala. Goa to Gokarna, Gokarna to Murudeshwar or Gokarna to Udupi are all major Konkan Malabar Tour routes that include major Udupi Tour Places like Udupi Beach, Goa Party Beaches, Gokarna Beach Stay, etc.
Malabar coastline starts from Mangalore and runs down south till Malappuram in Kerala. It includes a stretch of virgin beaches, coconut groves and mainland filled with abundant biodiversity, history, heritage and culture! Tourist Places in Kerala like Bekal and Nileshwar in Kasaragod, Kannur, Thalassery, Mahe, Kappad, Calicut, etc. are integral parts of Malabar. Wayanad borders the Ghat section of Malabar with lush green hills and majestic valleys. Konkan Malabar Tour captures the beauty of Malabar.
Tyndis Tours offers curated experiences with detailed storytelling tour packages that will take you through the enticing nature, untouched destinations and lots and lots of heritage, culture and food connected with the Konkan region. Explore top things to do in Goa, the Best place for Goa Stay in near Goa beach, things to do in Gokarna, etc. in this Goa to Kerala Konkan Malabar Tour.
Travel through the paradise of South India
Sprawling long through the Arabian coastlines, Konkan and Malabar feature some of the most sorted of destinations in India that are untouched! One can get awed by their beauty and charm and wonder why there are only very few tourists in these places.
In India, Konkan is tagged as the most scenic rail routes. If you had a chance to travel along the Konkan Coast on a train, consider yourself lucky! The song "Chaiyya Chaiyya" from 'Dil Se', the movie 'Chennai Express' and numerous other India movies have captured the beauty of the Konkan railways filled with majestic tunnels, long and tall bridges, scenic view of Ghats and steep valleys.
Malabar is no less cinematic and seductive! The Bekal Fort is hugely famed for its appearance in the "Uyire" song from the movie 'Bombay'. The beautiful backwaters of Kasaragod, Mangrove forests, alluring rivers, sacred groves, etc. and the art forms like Theyyam and Poorakkali, crafts of handloom, Beypore Uru making, pottery, bell metal statues, etc. are unique to Malabar.
Tyndis carefully places the best and unique elements of Konkan and Malabar in the Konkan Malabar Tour. This South India Tour has plenty to offer to travellers who are looking for something new and fresh! It is a place where Experiential Tourism is at its best!
Get options for customized Goa to Kerala Tour packages through the heartlands of South India tour places, featuring the heritage, history, culture, local delicacies and landmark foods, local experiences and interactions, village walks and much more!
Konkan Malabar Tour is entirely curated by Tyndis travel experts and features the ultimate scope of customization right from the number of days, activities, accommodation, etc. It simply means that you will choose how long your travel would be, where you would like to stay and what you would like to do! Leave the exciting part to Tyndis! This South India Tour Package can be customized anywhere between a minimum of 13 to 15 Nights. It can also be customized to an extremely relaxed, "at-your-pace tour", South India tour package which can be extended up to 17 or even 20 Nights.
For both travellers, who are new to India and who have been to India, Tyndis Konkan Malabar Tour will certainly be a new experience. Get featured to a completely virgin tourist route in South India, with destinations that so enticing and untouched.
Experience yourself travelling through unexplored lands – offbeat and serene scenes all around you, all day long! It is not an easy effort to curate something like the Konkan Malabar Tour which combines the elements of back to village, responsible and sustainable tourism, and heritage tourism, but at the same time keeping it on par with the international standard of travelling. Both Tyndis and people of Konkan and Malabar regions promote the idea of eco-friendly and responsible tourism.
The essence of Tyndis Konkan Malabar Tour
This South India Tour, as mentioned earlier, is a journey through the unexplored lands of South India. This Goa to Kerala Tour majorly features only three celebrated tourist destinations – Goa, Kabini and Wayanad. All other destinations featured in the tour are either untouched or relatively less explore places in South India. The pleasant climate and welcoming people of the region add to the beauty of the tour.
Experiencing this Konkan Malabar Tour will, in other words, be an experience of the rich history connected with the south Indian temple and temple cities like Udupi. One can learn a lot about the culture, food, art forms, architecture, livelihood, agriculture, etc. of each of the places that are visited on the tour.
The storytelling walk in Goa tells the heritage stories connected with the yesteryear Portuguese colony. One can also visit the major tourist places of Goa in this heritage walk. Other heritage walks in this Goa to Kerala tour features the 1000-year-old Udupi Temple. or the walk in the Bekal fort or Tuk-Tuk tour in Calicut through the heritage streets, stories about the Latin heritage in Mangalore, etc. are irreplaceable experiences!
South India has a food culture of its own. In the Konkan Malabar Tour, explore the wide variety of incomparable South India dishes. In the Udupi Food Trail, visit local households, popular eateries, old kitchens, etc. and get to know the food treasures of Udupi. Go on a Culinary Tour in Mangalore. Explore the Latin. In Calicut, experience the taste of Calicut halwa and chips. Thalassery Biryani would leave you no words to express the taste! Without a doubt, this part of Konkan Malabar Tour will be ecstatic for a food lover!
For a normal tourist, the majestic forts and ancient South Indian temple complexes like Udupi Temple, heritage building and colonial reminiscences, bustling ports and markets, picture-postcard seashores, secluded beaches, the long stretches of coconut groves, paddy fields and cashew plantations, offbeat fishing villages, backwaters and lush green mountains, etc. featured in this Goa to Kerala Tour will be sheer bliss! These are the best places to tour in India.
Stories about the British colonial period in Mangalore, Goa – the once Portuguese settlement, Malabar and its unparalleled culture makes Konkan trail extremely unique from any other Indian tour package. Some other highlights of the tours are meditation and Yoga in the peaceful ambience of Gokarna, wildlife safari in Kabini, relaxing Kerala houseboat cruise in Nileshwar, Nileshwar village walks, Mangrove Tour in Calicut, Wayanad village experience, Culinary tours in various heritage cities and lip-smacking seafood with a beer in Mangalore, etc. One can experience a complete mix of various flavours of South India in this tour.
Excited about travelling to the magical land of Konkan and Malabar to experience all of these? Tyndis Tours provides you with the best option to customize the Konkan Malabar Tour. This South India Tour is a completely personalized tour wherein Tyndis arranges for Airport Pick & Drop, Airport Assistance, Cab Service with experienced driver and amenities, Unique Stays, Special Food with Culinary Experiences, handpicked Activities and Storyteller Walks, Restaurant suggestion and much more.
Send your travel query to this Enquiry Form and Tyndis travel team will get in touch with you. So, don't wait – get going for the unparalleled travel experience through Konkan and Malabar!