14 Mar 2022
8 Best Backpacker Hostels in South India – Backpacker Tours India 2022
Looking for accommodation in South India? What if you had an option to get richer by spending less? The easiest way is – whenever you travel, stay in hostels! It turns out to be far cheaper than hotels. One can manage to find some of the best backpacker hostels in South India!
Hostellers are usually wanderers from all over the world, passionate about life and travel. Nothing can make you richer than the experience that you gather by meeting such people and taking time to talk about their nation, places they have visited, sharing with them about your travel sagas and so on.
For less than $8/ night, you can stay in the best backpacker hostels in South India. At this rate, you can rent a bed (usually a bunk bed in a dormitory) and share a bathroom, lounge and a kitchen with other travel mates.
Most of these best backpacker hostels in South India facilitate free wifi, a laundry room, lockers and food on demand. Hostels are ideal for backpackers, young couples, solo women travellers or low-budget travellers who care less for privacy and desire to gather as much experience as possible during their travel.
This travel blog from Tyndis is intended to give you some insight into the facilities offered by a few of the best backpacker hostels in South India. Pick your backpack and step out to have some fun in one of these escapes.
1. Roambay, Mysore – Karnataka
Painted in pristine white and traditional yellow, Roambay is one of the best backpacker hostels in South India. It is a century-old mansion that has been renovated tastefully for their guests to experience heritage with a touch of modernity. It is one of the experiential stays, providing service as good as any other hotels in Mysore.
Located in the heart of the city near the Mysore palace, hostellers can explore all the tourist sites easily. Preethi and Pavan your friendly hosts do everything to ensure your stay is comfortable. Even though it is a hostel, Roambay is competitive to hotels in Mysore, with its spacious communal room, clean sanitary, comfy bed, offers yoga classes and complimentary breakfast.
With the option of a private room, 6-bed female dormitory, 8-bed, 4-bed or 2-bed mixed dormitory, this is one of the best backpacker hostels in South India that caters to both solo women and men travellers around the globe.
Very soon they are to introduce a service wherein you can hire a bike for roaming around the town and a café to enjoy some fresh snacks. If you are in Mysore and would love to go for an experiential stay, we recommend you to try out this backpacker hostel over other hotels in Mysore.
Motto: Explore, Munch and Snooze
Larger hostels suit larger groups.
2. Micasa Hostels, Pondicherry
With a kinky interior, Micasa is located about half a kilometre from Pondicherry railway station. Bike tours, karaoke night+, yoga classes, cooking classes, night skating, museum and gallery tour are some of the activities the hostellers from Micasa can indulge in. It is such engaging activities that make it attractive over other big hotels in Pondicherry.
Most of the tourist places in Pondicherry can be accessed on foot from here. This makes it one of the best backpacker hostels in South India in all aspects. Micasa Hostel has a lift to take you to your designated room – ensuite private room, AC rooms, female dorm or mixed dorm.
There are separate bathrooms for males and females, laundry service, a kitchen to do some self-cooking, a terrace on top to enjoy the view, cupboards to safely dispose of belongings, free wifi and a long list of rules that have to be strictly adhered to for the safety of fellow roommates. The facilities at Micasa is no less than any other hotels in Pondicherry.
Very soon they are coming up with a 3-storied hostel with 4 common areas, a home theatre and a huge capacity to accommodate 60 people. This will make you book Micasa hostel over any other options of hotels in Pondicherry. In fact, Tyndis recommends you to try out the experience of this best backpacker hostels in South India.
Motto: Our reviews say it all!
If you are planning to stay for long in a place, go for a hostel that has a kitchen. Make your roommates taste your culinary skills and teach each other your cuisine.
Located amidst the tea plantation in Meencut, this Munnar backpacker hostel is only a short ride from Munnar town. Tobin, your host and the staff at Share Hostel genuinely takes an effort to make you feel at home. You can laze around by putting a tent in the garden or rest in the hammocks around, to have a relaxed holiday with free wifi and free breakfast. Share in one of the best backpacker hostels in South India – in Kerala.
In this backpacker hostel, at less than $1 you can enjoy a meal too. To stay, they have separate dormitories for females and males and a kitchen to cook up something interesting. A home away from home, this place is kid-friendly and has a facility to get your laundry done. The host takes the hostellers on a guided tour in a tuk-tuk to see the nearby places in Munnar, joins you on trekking and to explore distances there is jeep safari.
Motto: Build relationships that last!
There is always some fun brewing at hostels.
4. Short Giraffe Varkala – Kerala
All those travellers who are spirited and curious to explore and engage with the world, excited to experience a new place regardless of language barriers and cultural differences are welcomed by the Short Giraffe staff with a warm smile. This hostel is located just a few meters from the cliff and the Papanasam beach in Varkala. It is an old Kerala home that has been refurbished spreading positive vibes for all their guests.
The hostel offers a variety of accommodation types, from tents through private huts to dorms. All rooms come with medium-sized lockers, an indoor common area for hostellers to meet up, mini library to read, plenty of board games and table-tennis table to play.
Like other best backpacker hostels in South India near a beach, Short Giraffe also has outdoor facilities include a huge garden with hammocks to relax, a slackline to try some balancing acts and badminton net with racquets.
There is a designated barbeque area with sitting arrangement around it, a kitchen wherein you can cook up something interesting or take the services of the chef at a reasonable cost. Some of the amenities offered include free wifi, airport transportation and a scooter that guests can use for short trips free of charge.
Motto: To spread a smile across all folks!
To keep you in high spirit throughout the journey, you need a wholesome lodging experience and that's what a good hostel provides.
5. The Lost Hostel, Fort Kochi – Kerala
Lost Hostel in Fort Kochi is very close to the beach. This Fort Kochi backpacker hostel is a 100-year-old Dutch house that has been renovated. The upper floor gives a panoramic view of the Kochi port and the lower floor of the house is a common area for fellow hostellers to share their tales of travel. They have AC and non-AC mixed dorm and a twin room with shared bathroom as an accommodation option.
The hostel is well located for you to walk around and explore the culture of Kochi, see the street art, the Chinese fishing nets, the old churches, the quaint Jewish part of town or go to the ferry for a boat ride. Its ideal location makes it one of the best backpacker hostels in South India – in Fort Kochi. By providing clean linen, free WiFi, lots of books to read and games to play, the hostel provides facilities to make your stay truly amazing.
Besides Fort Kochi, the Lost Hostel has properties in Munnar, Varkala, Madurai and Goa.
Motto: Travelling is about sharing your values and experiences and giving something back to the world.
If you are on a shoestring budget, instead of splurging on fancy rooms, save your bucks to buy an experience like a Kalari ayurvedic massage or explore the heritage Silk Route.
6. Design Ashram, Calicut – Kerala
Design Ashram is a 100-year-old courtyard residence located in the Gujarati Street, a historically and culturally significant locality in Calicut. The hostel is renovated tastefully retaining the rustic ambience. It is owned by a trader family from Gujarat whose ancestors had migrated to Calicut from the coast of Saurashtra when Mahmud Ghazni had invaded their hometown in 1027 AD.
Design Ashram Backpacker Hostel in Calicut, is a spacious dormitory but does not have a communal living space. Instead, they have a beautiful Peepal tree courtyard for like-minded individuals to bond, share and brainstorm around, like how the traditional Indians still do in villages. The private room has a kitchenette and a private bathroom and the mixed dormitory features a fridge, a shared kitchen, and a shared bathroom.
This hostel organizes weekly and monthly events like the book swap, open-mic Wednesdays and art workshop to provide positive reinforcement to the art and culture scene in Calicut, and provides a platform for young artists to experiment with their talents. It's special features certainly makes it one of the best backpacker hostels in South India.
The property is within walking distance to the beach, Lalithakala Academy Art Gallery, Kalari Martial Art School and some very good restaurants serving both international and Malabar Cuisine. Within short radius, there are major tourist places in Calicut nearby like the Calicut Beach, Konad Beach, Mananchira Square, SM street and Sarovaram.
Guests can also visit the Gudhaam Art Gallery and Antique Museum nearby. If you are interested, buy a souvenir from street shopping in Calicut – maybe an artefact or maybe a piece of Calicut Halwa!
If you want to carry something valuable on your journey, but fear theft, go for a hostel that provides lockers or safes.
7. Zostel, Vagamon – Kerala
With the idea to make travel fun, affordable, and safer, Zostel started the chain of best backpacker hostels in South India. They today have a presence across 38 cities in India and Nepal. All their hostels take care of the basic needs of hygiene, comfort and safety at an affordable cost. They even have a loyalty program which gets you discounts across all Zostels and in their partner hostels.
Zostels have vibrant community rooms with internet kiosks, TV, board games, music player and books to pass your time, and a shared space to meet up with like-minded travel buddies from various corners of the world. They have safes to lock your valuables in, provides clean linen and water dispensers to quench your thirst from time to time.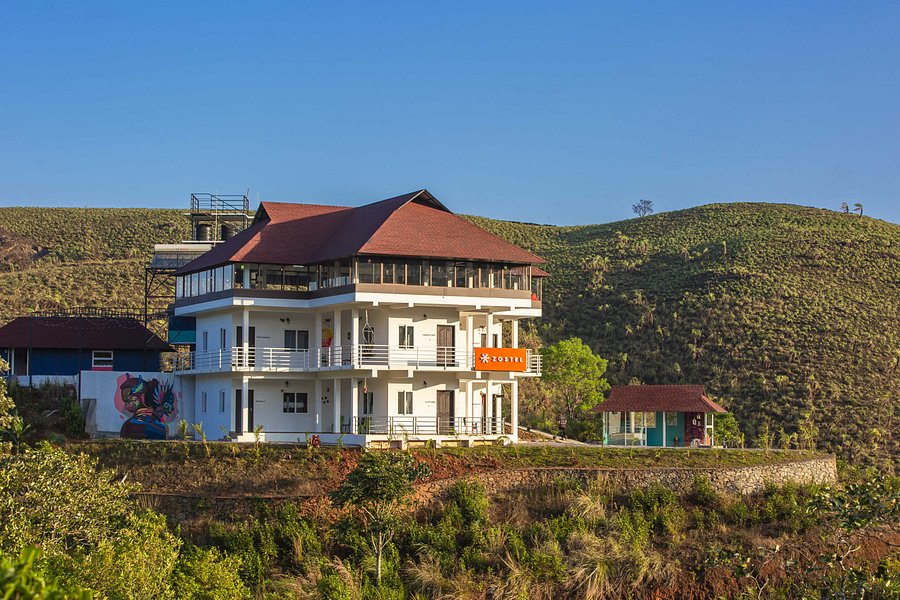 Zostel in Vagamon is a hostel nestled in the green meadows with quiet surroundings. Their front yard faces the vast expanse of lush green hills while the backyard has a vista of tea estates. They have 8-bed mixed dorm, 8-bed female dorm and a private room to serve the purpose of accommodation at Zostel, Vagamon. Travel values and friendly operations make Zostel Vagamon one of the best backpacker hostels in South India.
If you are in a mood for an enthralling adventure, Vagamon is one of the best places in South India for experiencing paragliding and a good host of adventure activities like hiking, trekking, off-road driving and zip lining in the midst of panoramic lush meadows, pine forests and waterfalls. It is an ideal spot for backpacking tour in Kerala.
Motto: Live It Now!
Though the idea and concept of a hostel remain the same, they are all unique in their feel and surrounding.
8. Trippr Backpacker Hostel, Kodaikanal – Tamil Nadu
Trippr is another chain of best backpacker hostels in South India, providing a cosy and economical stay for travellers on the go. Located 5 km from the main town of Kodaikanal on Perumpallam Road, off Naidupuram, this property has one eight-bed dorm, and three four-bed dorms, all with attached bathrooms.
The ambience and décor of the hostel reflect the beauty of the Tamil ethos. During those chilly calm nights, on request, the hostel can set a bonfire for their guests in the lawn.
The salubrious climate, the awe-inspiring landscape, the enchanting green hills, dense forests and cascading streams pull the guests towards Kodai for more. To connect with new friends and to engage in lot many activities there is no better place than Trippr. These specialities make it one of the best backpacker hostels in South India.
Besides Kodaikanal, Tripprhas hostels in Gokarna that is located right in front of a private beach, in Alleppy near the backwaters you can go kayaking, or stay and explore the wilderness in Chikamagalur.
Motto: Travel and recharge lives at Trippr.
All you free-spirited travellers, now that Tyndis have picked the finest inexpensive and unique hostels to suit your comfort level, look no further. Just pick one of these best backpacker hostels in South India, pack your bags and go hostelling. There is a world of experiences waiting for you. Get in Touch with us for any help you need!