16 Jan 2020
Top 9 Instagrammable Spots in Kerala – Tourism in Kerala
Kerala as a whole is a very Instagram-friendly place. One can manage to find lots of Instagrammable spots in Kerala. Be it a professional photographer or social media enthusiasts, the beautiful scenes around the state can make an Instagrammer out of anyone. Most of these are unique tourist places in Kerala, which are less known.
If you are on the lookout for offbeat places in Kerala to capture on the lens, here is a list of best Instagrammable spots in Kerala which are less explored.
1. Valiyaparamba Backwaters in Kasaragod
Backwaters are God gifted to Kerala. It is a natural phenomenon, where major rivers and streams form a network of lagoons, canals, estuaries and deltas before they meet the Arabian Sea. Besides Kollam and Alleppey, the backwaters of North Kerala located in districts of Kannur and Kasaragod is amazingly beautiful! As an Instagrammer, you should be happy to know that this region is not that exploited. Pack your bags and explore the top Instagrammable spots in Kerala in Malabar.
If you are in North Kerala, a visit to the majestic Bekal fort is a must-do thing in every visitor's itinerary. You will definitely get wonderful shots with the backdrop of the treacherous waves crashing into the fort. What many people give a miss is the cruise to Valiyaparamba in Nileshwar. About two hours by boat, Valiyaparamb is a long strip of land between the backwaters and the Arabian Sea. Watch the green shoreline, calming sunset, cluster of picturesque uninhabited islands, feel the breeze and the serene beauty of the blue backwaters as you relax on the boat.
For more photo opportunity, take a tour of Nileswaram with Tyndis. We can take you to an old temple with a tall Shivalinga and Ganapati statue very near the railway station and a Royal Palace that is now turned to be a remarkable folklore centre for cultural activities. Kerala Tourism packages will definitely include many such unique tourist places in Kerala in Malabar.
2. Dharmadam Island in Kannur
Dharmadam is a secluded island and one of the most offbeat places in Kerala. It is one of those top Instagrammable spots in Kerala, covered with a canopy of coconut palms and dense bushes are Dharmadam for you. About 30 km from Kannur, Dharmadam is an island about five acres, surrounded by sea on one side and rivers from the other three sides. A hundred meters away from this island lays the Dharmadam beach.
You might have already taken a river or a lake cruise, but have you tried kayaking in an ocean? If you are adventurous by nature, you should definitely experience Dharmadam Ocean Kayaking in Kannur. Pro-instructors at Tyndis will teach the basics on how to head the waves and glide over the ocean on a kayak. Once you complete kayaking and reach the island, we will Instagram the moment for you! Kerala Tourism features special water sports activities in Kannur.
3. Chembra Peak in Wayanad
If you love some challenge, then trekking up Chembra peak will be worth the effort. A must-visit tourist spot in Wayanad, Chembra is eight kilometres from Kalpetta. At the foothills of the peak, there is a three-storey watch tower to have a 360-degree view. It takes at least three hours to reach the top of Chembra peak. Chembra is one of the best Instagrammable spots in Kerala.
While climbing up, take note of the murmur of spring that flows from the peak. On reaching the top, the Instagrammer gets the incentive of taking in the fresh air, soak in the breathtaking view of the tea estates and a heart-shaped lake which is said to have never dried up. Kerala Tourism packages offer trekking tours in Wayanad to Chembra Peak.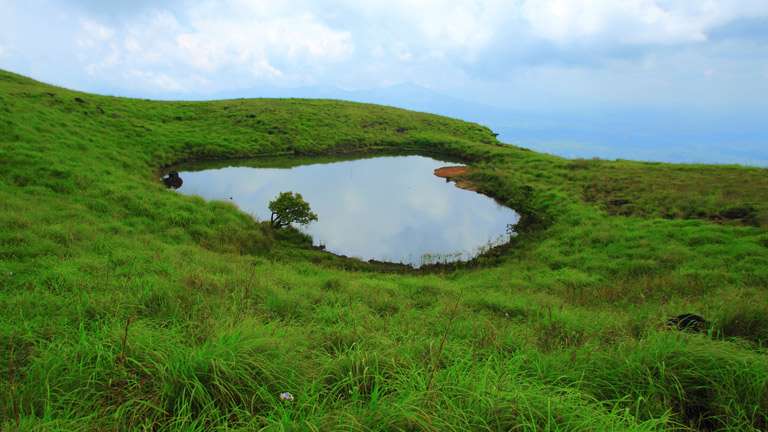 As it is one of those offbeat places in Kerala – ideal for wildlife spotting, forest authorities have discontinued giving permission to camp at the top of the peak. The Forest Department has restricted the number of tourists per day to 200. Get in Touch with us to take you on this trip.
4. Kolukkumalai Peak in Idukki
To share a little trivia about tea, the best and the most premium variety of tea are grown at steep elevated slopes. At a height of 7,900 feet, the highest tea estate and tea factory in the world was built by the British at Kolukkumalai Estate in 1935. It seems the workers of the factory still use the same equipment that was brought from England while they ruled the country. Tea aficionados claim that the organic tea produced in the traditional method at Kolukkumalai is class apart.
About 23 km away from the more touristy Munnar, this place can be reached by taking a jeep from the town of Suryanelli. The jeep ride on this hairpin road is quite thrilling. Offering awe-inspiring views of the hilly landscape of Nilgiris and the waterfalls around, Kolukkumalai is a nature photographer's delight! Do not miss out this place from your list of Instagrammable spots in Kerala.
5. Meeshapulimala Peak in Idukki
Standing tall at 8,661 ft above sea level, Meesapulimala is the highest peak in the Western Ghats. The eight peaks together take the shape of a moustache, thereby the name 'Meesapulimala'. It is one of the most celebrated Instagrammable spots in Kerala. Meeshapilumala has acclaimed the status of one among the best offbeat places in Kerala.
If you climb up further from Kolukkumalai, you reach Meeshapulimala. But if you intend to directly go to Meeshapulimala, there are few jeeps from Munnar that takes you to Rhode valley (look around for the pink Rhododendron flowers here). The journey through the winding mountain roads, in the deep tropical rainforest, and the experience of watching the clear sky and twinkling stars in the wilderness (if you can choose to camp here overnight), will surely leave lasting memories. Never miss out such unique tourist places in Kerala on your Kerala Tourism Package.
Prior permission from the forest department is required to go trekking as they allow very few trekkers to this place. Moreover, you have to be really fit to endure two days of camping adventure in the wild.
As you go through this long trek through the grassy lands, pine forests, and streams, you will find amazing sights to go Instagramming. There is a great chance of sighting animals such as Nilgiri Thar, Sambar, Deer, Wild Gaur, Wild Dogs and even the Sloth Bear.
The amazing panoramic view of the cloud-kissed mountain tops, beauty of raw nature and the sight that greets you once you reach the peak is definitely worth the pain. In fact, the best Instagrammable spots in Kerala are the ones set in the lap of nature, far from the madding crowds.
6. Kakkathurthu Island in Alleppey
Kakkathurthu can be literally translated as 'the island of crows'. A haven for birdwatchers, this island surrounded by the Vembanad Lake is connected to the mainland by just traditional canoes. Located in Alleppey, 17 kilometres from Kochi, this island became popular when National Geographic featured this tourist place in Kerala as the one with the most beautiful sunset.
Besides the splendid scenery, you can capture the quaint life of the villagers engaged in activities like fishing, coir making, toddy tapping, and clam meat processing. Kakkathuruthu is one of the unique tourist places in Kerala. It is slowly becoming one of the celebrated Instagrammable spots in Kerala.
7. Munroe Island in Kollam
Touring the backwaters of Ashtamudi Lake is a popular activity tourists' don't miss on their visit to Kollam region. But to take in the slow village life you should visit the magnificent Munroe Island that is less than an hour from Kollam town. Take a 2-hour canoe or kayak tour through narrow zigzag canals that are surrounded by greenery, naturally formed mangrove arches, short bridges and palm trees on either side of the canal bow down towards the canal as if they are welcoming you. The unique setting of Munroe Island makes it one the enticing Instagrammable spots in Kerala.
Munroe Island is a delta formed where the River Kallada joins the Ashtamudi Lake. It is a group of small islands in Astamudi Lake that was made habitable by a British Colonel John Munro in 1800s by reclaiming the land in the delta. While gliding through the canals, watch the men on the shores engage in fishing, boat building, and sand mining.
On the scenic banks of Ashtamudi Lake, there is an ancient Church built by the Dutch in 1878 and Munroe's residence is other attraction to capture.
It is believed this island would be entirely submerged by 2050. It bore the brunt of Tsunami that hit the island a few years back. Today it fits as a model showcasing terrifying consequences of global warming. Very soon Munroe Island will flaunt the first amphibious building in India, which will be flood-proof. The structure is being made to rise whenever flooding occurs and settle back when the water recedes. Kerala Tourism has initiated Responsible Tourism projects in Munroe Island. Enjoy the beauty of this offbeat place in Kerala while you can!
8. Muzhappilangad Beach in Kannur
It is not that this beach is undiscovered, but it is special because it is one of the longest drive-in beaches in the world. If you love driving, don't park your vehicle outside Muzhappilangad Beach, just drive in the white sand that stretches 4kms long in your car or try some bike stunts while you enjoy the sunrise or sunset from this beach. Muzhappilangad is located 15 km away from Kannur. Some endangered birds on the scenic beach make for some great Instagram shots too!

9. Nelliampathy Hills in Palakkad
Nelliyampathy is a hill station within the Nelliyampathy Forest Reserve. The road that winds its way up to Nelliyampathy forest is dense and the view of Palakkad Gap from above is simply splendid! Nelliyampathy Hill is popular for its beautiful tea, orange, coffee and cardamom plantations.
To the west of this hill lies Kesavan Para, a vantage point with views of nearby tea plantations and Pothundi Dam built in the 19th-century can also be visited. The view from the dam is picturesque and it offers boating facility for the tourists. If you are a wildlife enthusiast then go on further to Parambikulam Wildlife Sanctuary for some wildlife sighting and to capture some excellent shots for your gram. Don't forget to add Nelliyampathi into your list of Instagrammable spots in Kerala to visit.
If you liked our travel suggestions for Instagrammable spots in Kerala, get in touch with us today to BOOK your Kerala Tour with us.