04 Apr 2020
10 Unique & Best Homestays In Kerala you must checkout
If your idea of a holiday is sheer relaxation, indulging in homely food amidst a bunch of nice people in a home away from home, then staying in best homestays in Kerala is your best bet. Cottages, country homes, treehouses, offbeat stays, coastal hideaways, there are homestays in all sort of setting in Kerala. We at Tyndis, have hand-picked ten best homestays in Kerala that has something inspiring about them.
The hallmark of a unique Homestay is its spectacular location combined with well-stocked interiors, scrumptious food and having a host who can be an insider guide too. A good homestay experience can promise an immersive break that's so much more than just a holiday. Add colour to your Kerala Tour with a stay in one of the best homestays in Kerala.
Why choose for Best Homestays in Kerala than a Hotel?
It is not always recommended to go for a homestay. But if you are on planning for a Kerala Tour Package, there are some very good options of best homestays in Kerala to choose from. Here are some reasons why you should stay in Kerala homestays when you are up for a Kerala tour:
A Friend for Life: Usually your hosts at Kerala homestays are people with a friendly demeanor, who love to talk, and open to the idea of making new friends. At the end of your stay, you may not only go back with wonderful memories to treasure for a lifetime but earn a friend forever.
Your Best Local Guide: As your host is a resident from your chosen place of interest, he can serve as an insider guide too for sightseeing, shopping, eateries, cab service and so on.
Responsible Tourism: People usually operate their houses as homestays to earn a supplement income. So staying in one is a great way of giving back to the community you have chosen to holiday in.
Peaceful Environment: Homestays in Kerala cannot occupy guests in large number as in hotels. Besides, the best of homestays in Kerala are tucked away from the hustle and bustle of tourist places in Kerala, which ensures you enjoy the beauty of the place from the peaceful setting of a home.
Flexible Homemade Cuisine: It is a great opportunity to try the local Kerala cuisine. If you are lucky, your host might prepare something on your demand or if they are flexible, may allow you to churn up something in their kitchen.
Personalized service: As in a homestay there will be fewer guests to take care of, the hosts can offer you personalized services, unlike a hotel.
Cheaper: If you wish to save some bucks for an excursion at the cost of a luxurious setting of a hotel, then booking one of the best homestays in Kerala is a good option.
Most of the Kerala homestays offer similar activities to their guests such as:
Exploring the village on a tuk-tuk, bicycle or a Kerala village walk.
Fishing in the farm canals or watching the fishermen at work.
Visit the market nearby and shop for village products.
Most of the houses are equipped with table tennis, basketball, cycles and various indoor board games to pass time.
A well-stocked library for all ages is common too.
A hammock to laze around
Yoga sessions
Special Kerala Ayurvedic massages and a day cruise on a Kerala houseboat on any backwater is arranged by most of the hosts.
But few homestays offer these and much more, which makes them feature here. I have put in a distinguishing feature of each of these ten homestays listed here.
1. Amaryllis Homestay, Wayanad
This homestay in Wayanad is set amidst the serenity and timeless beauty of the famed mist-shrouded mountains as its backdrop and looks down on the backwaters of the Karapuzha Reservoir.
Besides the five rooms, they have two luxury treehouses to enjoy nature, peace and quiet.
2. Dewalokam Homestay, Thodupuha
Dewalokam Homestay, situated in Thodupuzha is an ancestral farmhouse of a Keralite Syrian Christian Family. Just like the meaning of 'Dewalokam', this homestay in Kochi is a real 'Paradise'! It provides an amazing option unwind and relax in the rejuvenating surroundings.
Travellers can experience great comfort at the Dewalokam hosted by Mr Jose and Mrs Sinta. It is one of the best homestays in Kerala. Guests can walk around the homestay through the farms – filled with a wide variety of vegetables, fruits and spices. The homestay produces organic vegetables in their garden that is used to cook traditional Kerala cuisines in the kitchen.
This homestay in Kochi promotes a Sustainable Model of Tourism and living for that matter! As the sun rises, wake up and experience the beauty of nature at its best! Breathe in and refresh your mind and body! You can experience the gushing of fresh and unpolluted air. Try out doing Yoga or meditation, with the chirping of the birds soothingly playing in the background. Also, guests can make use of the Yogic and Ayurvedic packages available at the homestay.
3. Kandath Tharavad, Palakkad
Kandath Tharavad is the ancestral home of the Kandath family. The house is set in a rustic village outside Palakkad town, amidst the lush rice paddies. Tharavad is the place to experience the absolute calm village life of Kerala. It is one of the heritage homestays in Palakkad. The morning walks with the fresh breeze blowing against you, a visit to the corner tea shop to share your world with that of villagers over a tumbler of tea and the evening walk through the green paddies to watch the sunset, and looking up at the starlit skies at night are some of the past times you will enjoy staying at this abode.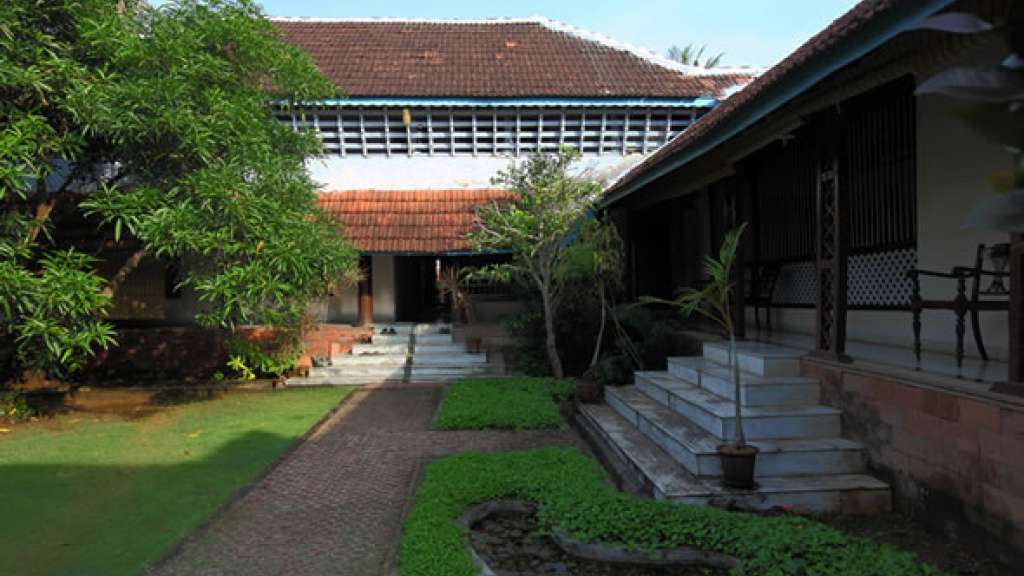 4. Mannaas Veedu, Pathanamthitta
Mannaas Veedu is a homestay in Pathanamthitta, constructed in Nalukettu, the traditional style of architecture of Kerala, wherein a house has a quadrangle in the centre. The house has five rooms for the guests. Joy Alexander, who is a retired army officer, is your host here who dedicates his free time in farming and taking care of the guests.
This property is one of the best homestays in Kerala. If guests are interested, they arrange for a trip to Konni Eco-tourism centre to spend a day with the Elephant or to Periyar wildlife sanctuary and the spice world around Thekkady which is a 3 hrs drive from Mannaas Veedu.
5. Maranat Mana, Calicut
This 160-year-old ancestral house of a Namboothiri (Brahmin) family is a heritage homestay in Kozhikode. It is a huge house with 'Pathinarukettu' (4 courtyards). The 'Pathayapura' (granary and guest house) is a fully-furnished 3-storey building where you will be put up as their guest.
Guests have to adhere to the centuries-old Vedic customs and traditions followed by the family and the house strictly serves only traditional vegetarian fare. It is a great place for tourists interested in studying about Kerala architecture, Hindu culture and religious studies. Maranat Manas has a heritage charm making it one of the best homestays in Kerala in terms of its Kerala architecture.
6. Mistletoe Homestay, Munnar
If you are exploring for a homestay in Munnar or around, Mistletoe is just 16 km from Munnar town, facing the magnificent Chokkanmudi peaks and Kanan Devan tea plantations. They have five well-furnished double rooms with a private balcony and one spacious family suite.
Baking has been a family business for years for this Munnar homestay owners. You can relish some fresh goodies straight from the oven or even learn the basic steps of traditional baking from at this homestay in Munnar.
Very soon they propose to showcase art collections at their café, from famous artists of Kerala. Travellers are free to appreciate or even buy art. The offbeat stay and unique setting make it one of the best homestays in Kerala. In your Kerala Tour Package, get time to heal the mind, body and spirit, at Mistletoe with natural healing. The hosts of this homestay in Munnar encourage their guests to visit the nearby old age homes and orphanages.
7. Philipkutty's Homestay, Kumarakom
Philipkutty's homestay in Kumarakom is located in the largest farm on an island amidst the backwaters of Vembanad Lake near Kumarakom within the Vechoor village limits. The major crops on this farm spread across 35 acres of land are coconut, nutmeg, cocoa, banana, pepper and many other fruits, vegetables and spices. The farm also has a few cows, geese, ducks and hens.
The host family at this homestay in Kumarakom takes a lot of interest in personalizing your stay, depending upon your interests.
8. Seashell Haris Beach Home
This homestay in Kannur is perched on the lush green cliff in a small green village called Adikadalayi, 6 km from Kannur town, located in Northern Kerala. All rooms and cottages are built in traditional Kerala style architecture and provide a breath-taking sunset view in the Arabian Sea. This is an ideal place to enjoy the greenery, beach, and sun with authentic Malabar cuisine.
This homestay in Kannur has a great policy toward responsible tourism. They follow energy-saving practices, employ handicapped people who make crafts in free time and sell it directly to the tourists thus promoting local art.
9. The Bungalow Heritage Homestay, Fort Kochi
If you looking for a homestay in Kochi with a historic architecture then The Bungalow Heritage Homestay in Vypin Island is the right place for you. This best homestay in Kerala is a heritage and historic building located just 5 minutes ferry ride away from Fort Kochi. It is a combination of Colonial Portuguese, Dutch & Kerala architectures.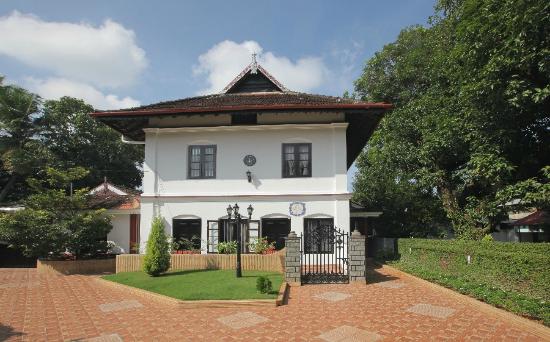 Neema, your host at this homestay in Fort Kochi lets out just two heritage rooms of her house to the guests. She is a great cook and loves to teach her recipes too. Make sure to visit this property in your Kerala Tour Package at Fort Kochi.
10. Thekkanatt Parayil Olavipe Homestay, Alleppey
Olavipe in Alleppey is an archetypal idyllic Kerala village. Thekkanatt house is a heritage homestay in Alleppey, over a hundred years old. It is a house conceived on the lines of traditional Kerala Tharavadu of the period, therefore has a lot of woodwork. The high ceiling and arches are borrowed from the European style. The house has four large bedrooms upstairs and two rooms in the converted gatehouse accessible by wheelchair, with individual garden space.
If you love history, you can browse through a treasure-trove of old family documents, letters, photographs and rare documents highlighting Kerala's social fabric of the last two centuries. The estate's lagoon is safe even for a novice to row a canoe and feel the serenity of the waters.
Choose from this list of Best Homestays in Kerala
Each home holds personal touches which reflect the personality of the host; whether in their artwork collections, well-thumbed libraries or the cuisine served.
Just select the from the above list of best homestays in Kerala that you can associate with, and fill in the Enquiry Form. We at Tyndis will get back with an interesting holiday plan for you.