19 Jan 2020
7 Must try breakfasts of Kerala – Kerala Cuisine
Keralites have taken the old adage to eat healthy breakfast like a king quite seriously. Those of you, who think dosa and idly are the only healthy breakfast items eaten in South India, should take on a Kerala Food Tour and explore the wide variety of Kerala Cuisine. Explore the unique options in breakfasts of Kerala – both vegetarian and non-vegetarian.
If you choose to book Kerala Food Tour with Tyndis, then we have a special culinary tour in Kerala wherein we can take you to the best places that serve sumptuous Kerala Cuisine and if interested, learn to make few dishes.
The variety in Kerala Cuisine can be attributed to its rich trading heritage. Foreign dishes have blended in with the local dishes to satiate the local palate. On one hand, we have Syrian Christians of Kerala who have their own typical Kerala Cuisine which includes Fish Molly, Duck Mappas, mutton stew and beef roast to name a few, which are paired with various types of appams.
On the other hand, Mappila or Muslim Kerala Cuisine is a blend of Persian and Arab culinary with a dash of local spices. Erachi Puttu (meat with steamed rice cake), Kallummakkaya (mussels) curry with Parottas (soft flatbread) or Pathiri (a type of rice pancake) are some of the North Kerala specialities. Tyndis Kerala Food Tour has specialised versions of Culinary Tour in Kerala.
As Kerala is known as the land of coconuts; grated coconut or coconut milk is a primary ingredient in most of the dishes. Having many water bodies, fish and rice is the staple food of Kerala. They come in as the major ingredients all major recipes in Kerala Cuisine.
Research says an ideal breakfast should have enough carbohydrates; protein and good fat to kick start the day with vigour and energy. Kerala food, especially the healthy breakfasts of Kerala provides this right combination. If asked to spread out seven Healthy breakfast of Kerala, the below will be the pick by Tyndis:
1.Appam with Vegetable Stew or Mutton Mappas
A favourite dish of Kerala Christians is stew or "Mappas". For the vegetable stew, a medley of vegetables like carrot, potatoes, green peas, beans and onions are simmered gently in coconut milk along with black pepper, cinnamon, cloves and green chillies. In a non-vegetarian stew, the vegetables are replaced by any meat or fish (fish molly). This gravy is best paired with appam of your choice.
Vellayappam is rice flour pancakes which have soft, white spongy centres and crisp, lace-like edges, whereas Kallappam is prepared by combining rice powder, coconut milk, toddy or yeast, shallots and cumin seeds. The batter is then poured on to a pan to make thick and evenly round Kallappams. It is one of the top options under breakfasts of Kerala.
2. Puttu with Kadla Curry
Puttu is one of the healthiest breakfasts of Kerala, as it is steamed rice cake with coconut garnish. Traditional cookware for making Puttu was coconut shell coin with a hole in the centre of a bamboo tube with a stopper on one end. These days steel Puttu vessels are used in most households.
The rice powder and coconut mixture is filled in these tubular containers and steamed over a boiled pot or on the nozzle of a pressure cooker for about 10 minutes. Steaming Puttu is pushed out to a plate using a stick and served with curry.
It is served with Chickpea (Kadala) curry or Green gram curry. Non-vegetarians may combine it with their favourite meat curry, duck mappas or fish curry. Kids may prefer this Kerala food with side dishes like banana or papadam.
3. Idiyappam with Egg Roast
Idiyappam or string hopper is one of the traditional breakfasts of Kerala, wherein rice flour is pressed into noodle form on an idly maker and then steamed for 10 minutes. It goes best with vegetable kurma, egg roast or if you have sweet tooth, pair it with thick sweetened coconut milk. It is one of the best recipes in Kerala cuisine. Foodies can experience the cooking of this recipe in Tyndis Culinary tour in Kerala.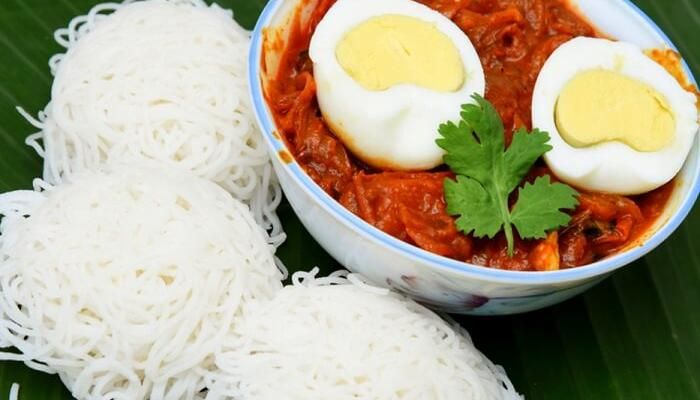 4. Pidi with Chicken Curry
Pidi is referred to as rice dumplings. Dumplings are simmered in water along with shallots, garlic, curry leaves, and coriander seeds. They are served dry in the Malabar region and the dumplings are drowned in white sauce in Kottayam district.
Kottayam style Pidi is a traditional dish of Knanaya (descendants of Jewish Christians from Antioch). It is customary for the mother in law to prepare this dish on a baby shower. It is served with roasted coconut chicken curry. Such unique recipes of breakfasts of Kerala can be experienced in Tyndis Kerala Food Tour.
5. Pathiri with Mutton Curry
Popular in the coastal Malabar region of Kerala, Pathiri is a soft chappati like bread made of rice flour. This bread is made by first mixing rice flour with warm water into the dough and then rolled out into thin flat dough discs on Tawa. It is served with spicy vegetable curry or non-vegetarians can have beef or mutton curry.
Into the Pathiri dough knead in grated coconut, shallots and cumin seeds, roll the dough into thick small circles and fry them. Voila! A variant of Pathiri called Poricha Pathiri (fried Pathiri) is ready. Explore this and similar breakfasts of Kerala in Tyndis Kerala Food Tour.
6. Kappa with Fish Curry
Kappa (tapioca or yucca root) is one of the authentic Kerala food, cheap and readily available all year round. It is one of the healthiest breakfasts of Kerala. A starchy dish, it is energy giving food for hardworking farmers. It is best paired with fiery red fish curry.
7. Parotta with Beef Roast
Malabari Parottas (Kerala Porotta) is a layered flatbread, easily available in all restaurants or as street food in Kerala. It is prepared by kneading all-purpose flour, egg, oil and water. The dough is beaten to make it thin, spiralled into a ball to form layers, rolled and pan-fried. It tastes good with any vegetable curry, chilly chicken or beef roast. Porotta is remarked by foodies as the most celebrated item in Kerala Cuisine. Experience the making of Kerala Porotta and Beef Curry with Tyndis Culinary Tour in Kerala.
Kerala Snacks & Savories
Variety in Kerala Cuisine is not limited to just breakfasts of Kerala, the state has well-developed varieties of 'Snacks of Kerala' and other savouries too. Experience these delicious Snacks of Kerala in Tyndis Food Tour.
1. Unnakkaya
This deep-fried spindle-shaped sweet delicacy from Malabar is ripe banana stuffed with coconut grating, eggs, cardamom, nuts, and sugar.
2. Unniyappam
Unniyappam is a small round snack that is crispy on the outside and soft in the centre with a yummy banana flavour. Made from rice, jaggery, banana, roasted coconut pieces, roasted sesame seeds and cardamom powder, these sweet fritters are fried in oil and often offered as prasad in Lord Ayyappa temples.
3. Kozhukatta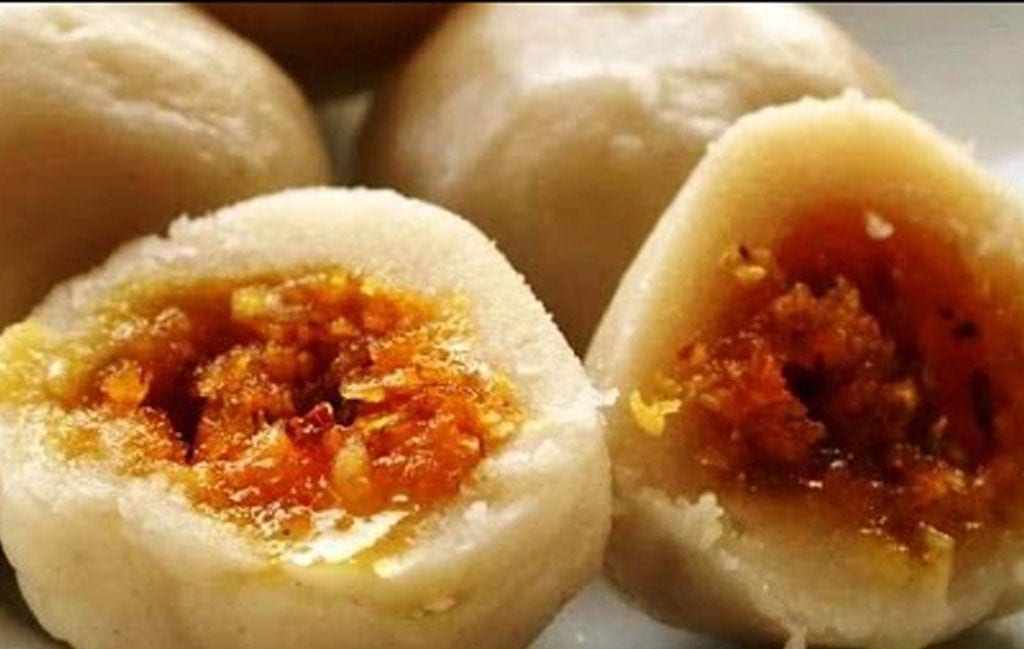 A healthy evening snack, Kozhukatta is essentially rice flour dumplings with a filling of grated coconut mixed with jaggery syrup that is steamed for ten minutes. It is customary to make this sweet snack on Palm Sunday among Christians.
4. Vattayappam
This evening snack is a soft and healthy rice cake. Rice and coconut are ground together, fermented with yeast, little sugar and few nuts and raisins are added in and flavoured with cardamom. The batter is then steamed.
5. Pazhampori
Crispy Pazhampori or banana fritters are made with a ripe variety of long and firm bananas that are used to make chips. Bananas are sliced, dipped in a batter made of maida, rice flour and sugar. It is then deep-fried. Pazhampori is a delight during Kerala Food Tour on street.
6. Ela Ada
Ada is a Kerala Cuisine delicacy with the sweetness of coconut and melted jaggery, sealed within a layer of steamed rice flour dough. As the Ada is wrapped in banana leaf and steamed to infuse the flavour of the leaf, it adds to the taste of the dish. It is often served as a side dish with some breakfasts of Kerala.
7. Parippuvada
Having spicy, hot crispy Vadas with piping hot tea during the Kerala monsoons is bliss! Parippuvada is a roadside snack that is made of coarsely ground Bengal gram mixed with ginger, green chillies, shallots and curry leaves, that is spooned into the hot oil.
8. Achappam
Achappam is very delicate but incredibly crunchy and delicious. Rice flour, coconut milk, sugar and eggs are mixed together to form a semi-thick batter. To make this snack, specially designed irons moulds are heated in oil, dipped in the batter and released in hot oil.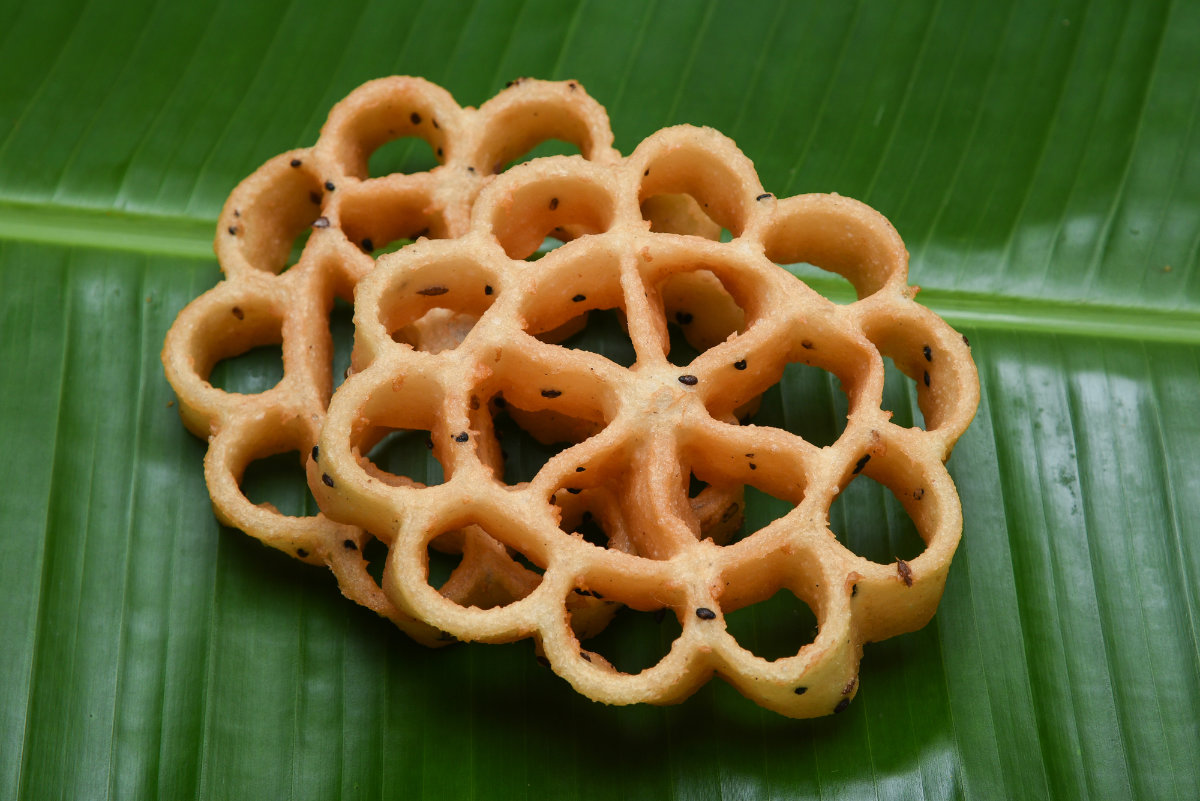 If you are new to Kerala Cuisine, then let me add about the traditional full-course vegetarian Sadya (ceremonial lunch) that is prepared on festivals like Onam and Vishu or Hindu marriages. This meal consists of rice with about twenty different accompaniments and desserts served on a banana leaf.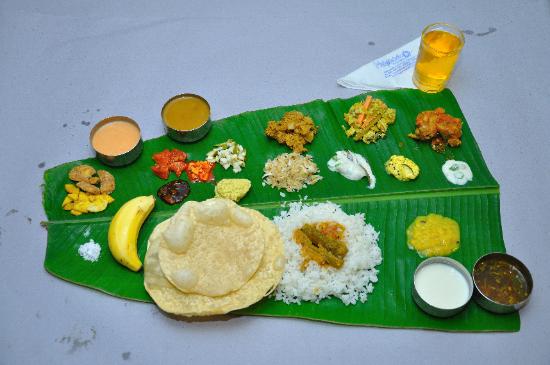 Now that you know the specialities among the Kerala Cuisine, Get in Touch with Tyndis to have more details about our Culinary Tour in Kerala.
Plan & Book your Kerala Tour Package with us and try out as many delicacies and breakfast of Kerala in Kerala Cuisine as possible with Tyndis Kerala Food Tour.