03 Jan 2020
Top 10 must things to do in Kerala – Best Kerala Tours
As a tourist, there are so many things to do in Kerala. But if I am asked to pick top ten unique attractions in Kerala, here is the list.
1. Fort Kochi Tuk Tuk Trail by Tyndis
There are a lot of things to do in Fort Kochi and most of the must-visit places in and around this beautiful town of Fort Kochi are tucked in the narrow alleys, which is best explored in a Tuk-tuk Kerala tour (popularly known as auto-rickshaws). Fort Kochi is a melting pot of cultures. To deep dive into the heritage of this town, one needs to take a Kerala storytelling tour with Tyndis.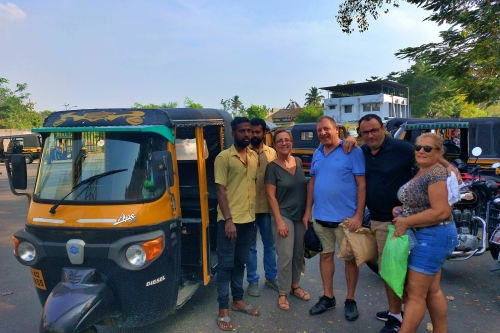 In this 4-hour Kerala Storytelling Tour in Fort Kochi, our local tuk-tuk driver cum storyteller shares fascinating stories about each spot in Fort Kochi. The tour takes the guests to a museum that unfolds the history of this town, heritage sites and iconic monuments such as the Jewish Synagogue, Dutch Palace, Cemetery and old churches which is on the tourist map. This experience is definitely one among the top things to do in Kerala!
You can get down and take a walk in the bustling streets of Fort Cochin and Mattanchery to observe the daily happenings at this market place, smell the spices, and explore the local eateries in this Kerala Storytelling Tour. Spend time watching the fishermen fish using the Chinese net, buy some fish and give it to the local shops to prepare and taste the fresh catch, stroll around Fort Kochi Beach and shop for some travel souvenirs to take back home after this top Kerala Tour.
Don't forget to note the British and French colonial buildings and the Portuguese architecture that lend an old-world charm to this place.
2. Night trekking in Periyar Tiger Reserve
Entering the eco-developmental zone of the Periyar National Park and Wildlife Sanctuary in the wee hours is the Top Kerala Tour out in the wilderness, provided by the Kerala Tourism. If you are inclined to experience the thrill of night trekking in the forest then this tour is a must-do.
Tourists who wish to participate in this Kerala Walking Tour should be physically and mentally fit to endure this three-hour-long forest trek at midnight. In this Kerala Tour, two groups of six people each go to explore the nightlife in the forest along with a well-trained and armed forest guide. Spotting a tiger needs a lot of patience but you might easily get to see elephants, civets, mouse deer, flying squirrel, and nocturnal birds.
At dawn, you can opt for boat rides, bamboo rafting, go trekking or take a bullock cart ride.
3. Kozhikode Mangrove Trails by Tyndis
Kadalundi-Vallikkunnu Community Reserve is a long stretch of mangroves in North Kerala. It provides a natural shield against flood, erosion, and natural calamities like a tsunami. This lush green coastal forest is the reason why there is always a cool breeze sweeping across the village even in the peak of summer. Tourists can experience Kerala village tour in Kadalundi. Tyndis Mangrove Tour is one of the Top Kerala Tour options with Mangrove canoeing and Kerala village tour.
The Community Reserve is spread over 153 hectares. It is at the confluence point of the Kadalundi River with the Arabian Sea. Large varieties of butterflies, fish and several migratory birds flock here to roost and feed on from September to December. During the monsoons, birds may be few but the location looks picturesque. A canoe ride through the mangroves and Kerala village walk by the community reserve to watch these birds is one of the top things to do in Kerala that you shouldn't miss.
The Mangrove Trails Kerala Tour in Kozhikode (Calicut) was where once sand mining was rampant. With the coming of the Sand Mining Regulation Act, many workers lost their jobs. Recognizing the issue, the government initiated a community reserve project in Kadalundi to conserve the mangroves and the eco-system of the region as well as give employment to the jobless. Today, these men are ambassadors of the mangrove conservation program. They plant and conserve mangroves along the wetlands of Kadalundi and work as boatmen, educate and guide the tourists along the mangrove trails.
The village of Kadalundi is famous for delicious Sea Food. 'Kallummakkaya', Karimeen, Prawns, Mussels etc. are major local delicacies of this place. In the Tyndis package, you can visit a fish cultivation centre too in one of these islands and see how a primitive fish catching method 'Thada' is still in practice here. This Kerala Tour should be on the top of your list of things to do in Kerala.
4. Biriyani Making workshop by Tyndis in Thallassery
Biryani is an exotic dish in India that dates back its origin to Mughal era. In a 3-hour Culinary Kerala Tour by Tyndis, experience the ultimate taste of North Kerala cuisine. Our representative and your food guide will take you to a 135-year old ancestral home. As you step into this house, feel the aroma of the delicious Thalassery Biriyani and experience the hospitality extended by the hosts. A very enthusiastic lady, Mrs Mariyam Shabeer, an expert in Malabar Cuisine will prepare her celebrated biriyani for you.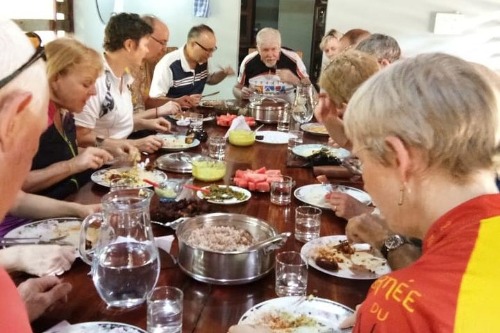 All over the country, Basmati rice is used to make this dish, but the Thalassery biriyani is an indigenous recipe of Malabar with a bit of Arabic influence. It uses a variant of Khaima or Jeerkashala rice. She will share her knowledge on the rich food culture of North Kerala, and make you taste few Malabar local delicacies as well. This top Kerala tour with food experience is sure to leave an aromatic spicy taste that will linger on in your hearts much long after the trip. Add on this trip to your top things to do in Kerala.
5. Alleppey Houseboat Cruise
National Geographic Channel has listed Kerala backwaters among the 50 destinations of a lifetime. Kerala Tour is definitely incomplete without a backwater cruise on a houseboat in Alleppey (known as Venice in the East).
Be it a family kerala tour or honeymoon, one should definitely spend a night on a houseboat. If you are on a day cruise, you can have sumptuous lunch on the boat watching the panoramic view of swaying trees, water birds swimming among the water hyacinths, the bridges, people living along the shores busy in their daily chores, and the beautiful water all around. Alleppey is perfect for Kerala village tour.
At night the boat docks on the shore. Instead of a hotel, if you want to spend a night on the houseboat there are many options to choose from depending on your budget and number of travellers. There are small houseboats with just one bedroom to larger multi-storied ones with 8 bedrooms, dining area and balcony, with AC & Non AC options. Private bathroom, TV and a fridge are common features included. Luxury Cruises on a traditional Kerala houseboat is definitely the best among top ten things to do in Kerala!
6. Kumarakom Responsible Tourism Kerala Village Tour
Kerala Tourism has won several awards globally year after year for its Responsible Tourism Mission activities in Kumarakom. For the tourists who are looking for best things to do in Kerala, top Kerala tour packages like the "Kerala Village Walk" and "A Day with the Farmer" will be great options!
In the 2-3 hours Kerala tour, tourists are given the opportunity to experience the village life in Kumarakom by taking a walk through the paddy fields, try your hand at net fishing, go canal cruising, watch artists at work while they weave coconut leaves or screwpine, make brooms and mats, coir making, learn the skill of climbing coconut trees, and toddy tapping.
As part of promoting 'Responsible Tourism', micro-enterprises with government support have set up units for vegetable cultivation, fish processing, pappad making, chapatti making, chicken processing, souvenir making, etc. Few women entrepreneurs have come together to form a unit where they grow organic vegetables, paddy, do poultry farming, tailoring offer catering service, and perform cultural shows in Kumarakom village. Interested tourists can buy these products directly from the enterprises.
7. Tyndis Wayanad Village Experience
Among the things to do in Wayanad, Tyndis Wayanad Village Tour tops the list. Tribal villages of Wayanad have a rhythm of their own. Walk with our storyteller to hear tribal folk stories and get immersed in their culture. Have a hands-on experience of various activities in a village to understand the culture and tradition of the place.
We will take you to a cattle farm, a plantation and a local school to interact with children and the native people. The covers trekking to the famous Edakkal Caves in Wayanad, a visit to the heritage museum, a jeep safari, and some zipline activities. These are among the top things to do in Kerala.
8. Experience the colourful Theyyam ritual in Kannur
Theyyam is one of the most spectacular Dravidian folk art in Kerala. This 1500-year-old heritage dance form was popular among the tribal community living here. In present days, this dance is performed in village temples or ancestral Hindu homes during the annual temple festivals in North Kerala.
It is believed that the God or Goddess belonging to a temple temporally manifest in the body of a Theyyam performer thereby elevating him to a divine status. There are three to five different types of Theyyam at one temple. If you choose to watch the night performance, you might even get a chance to see a fire Theyyam.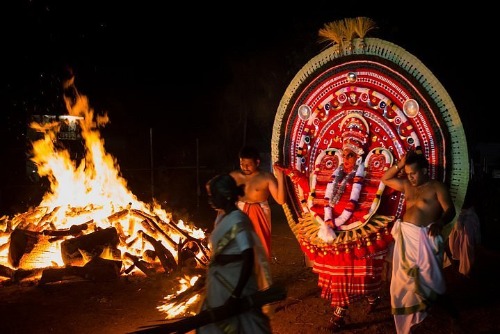 To watch the colourful spectacle of Theyyam dance is definitely one of the top things to do in Kannur or Kasargod during your visit to Kerala in October-May. Heavy make-up and the special costume add a mystical aura to this ritual. For culture enthusiasts, Tyndis arranges Theyyam tour program during this season.
In this 2 to 4 hours Theyyam tour, you not only watch the dance but also go behind the scene, interact with the performers, witness right from the stage when they prepare Theyyam costumes and wear elaborate make-up. Theyyam is a magical performance without which the list of top ten things to do in Kerala would be incomplete!
Tyndis storytellers who accompany the guests to the Theyyam performances are people who are passionate about this art and who have deep knowledge about the folklores on which Theyyam is based.
9. Dharmadam Ocean Kayaking in Kannur
You might have already taken a river or a lake cruise, but have you tried kayaking in an ocean? If you are adventurous by nature, you should definitely experience Dharmadam Ocean Kayaking in Kannur. Pro-instructors at Tyndis will teach the basics on how to head the waves and glide over the ocean on a kayak.
Tyndis Kayaking Tour goes on a fixed route, so get your muscles moving and feel the adrenaline boost. Row on braving the waves to reach Dharmadam Island, a secluded and tranquil picnic spot covered with a canopy of coconut palms and dense bushes. It's one of the top adventurous things to do in Kerala.
10. The Magical Jatayu Earth Center
Spanning across 65 acres of land over four hills, this is the world's largest bird sculpture measuring 200 feet long, 150 feet wide and 70 feet tall. Situated in Kollam, this is managed by the state government. According to the legend, in the great epic Ramayana, Jatayu is characterized as a noble bird of divine origin. It is believed the bird had engaged in a battle with Ravana to rescue Sita, in the process lost its wing and landed on top of a rock, where the monumental statue of Jatayu is now built.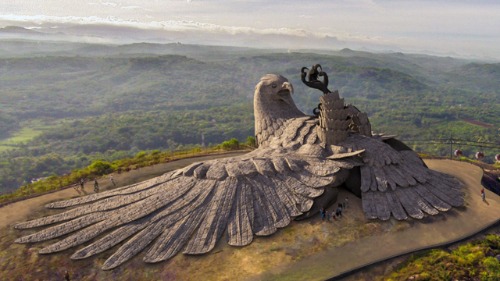 Jatayu Earth's Center is conceptualized and implemented keeping in mind the environmental protection and ecological equilibrium of the place. This colossal sculpture stands as a guardian protecting the hills from the miners. Rainwater harvesting, solar power and organic farming fulfil all the basic needs of this place.
You can reach the hilltop using a cable car and watch the scenic beauty of the lush green valley and the streets below. Visit the Ram temple there or enjoy the multitude of experiences like a museum, 6D theatre inside the sculpture or try your hand at paintball, go sky cycling, have a campfire in the night followed by moonlight dinner and live music. All adventure junkies can engage in adventurous games or go on an hour-long trek through the safe private forest, in the backdrop of breathtaking views of nature.
If you want to see or experience these things to do in Kerala, Tyndis can provide you with top unique experiences and activities to make your trip a memorable one.
Look no further, go ahead and book your Kerala Tour with Tyndis.