19 Nov 2019
Best Unique Honeymoon Package in Kerala
Why choose a Honeymoon Package in Kerala?
Honeymoon Package in Kerala typically includes just Kochi, Munnar and Thekkady, etc. But at Tyndis, we believe in giving our couples an experience worth remembering for years to come. We curate the best honeymoon packages in Kerala & South India. Read on to get an indication of how the Tyndis Honeymoon Package in Kerala will be like.
Honeymoon is supposed to be an intimate time to bond with each other and absorb your new reality. You cannot afford little disasters like bad accommodations, awful food, dire weather conditions, missing flights or boredom, come in the way of your dream trip. This is why you need to leave important occasions like your Honeymoon Tour to the experts. Tyndis provides curated and best honeymoon package in Kerala.
From the tranquillity of forests to charming beaches and from cultural heritage sights to gorgeous hill stations, a trip to South India has a lot to offer. If you are looking for the best honeymoon package in Kerala, at Tyndis we choose places to visit in Kerala for the honeymoon, which are not very commonly chosen by other Kerala honeymoon packages.
Specialities of Tyndis Kerala Honeymoon Packages
Tyndis Kerala Honeymoon packages include two less-explored places in Kerala, namely, Bekal and Nileshwar. Coorg and Kabini are also included in this Kerala Honeymoon Tour as they just lie few kilometres across in our neighbouring state of Karnataka. We sew up all these destinations in our Kerala honeymoon tour to give an awesome combination of enchanting landscapes, beautiful hills, serene beaches, and peaceful backwaters for our newly wedded clients.
In the six days and five-night Kerala honeymoon tour, we incorporate all the pre-conceived ingredients required to make it the best honeymoon package. So we have to pick and drop facility from and to the airport, soothing luxurious properties to relax, a flower bed, honeymoon cake and candlelight dinner to keep the romance alive.
The ease of access from Bangalore and the serenity of the Great Western Ghats make for a beautiful road trip to North Kerala. Keeping in mind the various interests of people, our best honeymoon package in Kerala covers Bekal, Nileshwar, Coorg, and Kabini. A choice of holiday destinations our city-dwelling guests from across the state is sure to enjoy. Kabini to give a feel of wildlife, Coorg a hill station set among coffee plantations, houseboat cruise in the backwaters of Nileshwar and a beach trip to Bekal.
Travelling with Tyndis Kerala Honeymoon Tour
If you are a wildlife enthusiast, then Kabini has all of it. River Kabini flows through three national parks, named Madhumati, Nagarhole and Bandipur. Large areas of this place are untouched by human activities to preserve the ecosystem. For this reason, it is easier to spot animals and birds when you go on a jeep safari amidst the thick green forest. Tyndis honeymoon package in Kerala has a lot of leisure and rejuvenation to offer our guests.
The second destination is Coorg, popularly known as the "Scotland of South India" as it is surrounded by beautiful mountains and rambling greenery. You can do some adventure activities like river rafting or trekking on the hills of Coorg. With Tyndis honeymoon package in Kerala, you relax in the best resort amidst the coffee plantations, watch some waterfalls close to where the Cauvery River originates or visit the peaceful Tibetan monastery at Bylakuppe.
Kerala Honeymoon Packages arrive next at Bekal in Kasargod district of North Kerala. Here there is a well-preserved heritage site in Bekal fort. Couples can explore this majestic fort situated overlooking the Arabian Sea. This is the stunning location where the soulful melodious song 'Tu hi re' movie was filmed from the cult movie 'Bombay'.
When the treacherous waves crash into the Bekal Fort's cold black stones it will make a wonderful backdrop to have some fun. Strike a pose like the lovesick couple Arvind Swamy and Manisha Koirala and ask our Tyndis storyteller to click some snaps for you. Watch the mesmerizing sunset either from up here or by walking hand in hand on the adjoining beach.
To experience the backwaters we will take you either to Kavvayi, Valiyaparamba or Nileshwar as these destinations are less crowded compared to Kumarakom or Alleppey the usual places visited in Kerala for honeymoon. Honeymoon couples can relax and discover the exquisite view of the quiet backwaters with palm-fringed shoreline during the daytime and spend the night enjoying the backwater cruise on a moonlit night (this is subject to the availability of the moon).
Our professionally managed premium houseboat service comes with all amenities to make you feel comfortable and relaxing. If you are a fish lover then here is your chance to try out all the lip-smacking varieties of shellfish, sea fish and river fish. You can try your hand at fishing or simply unwind watching fishing activities. If interested in culture then you can watch a traditional dance form called Theyyam or buy some quality spices for your near and dear ones from the land of spices.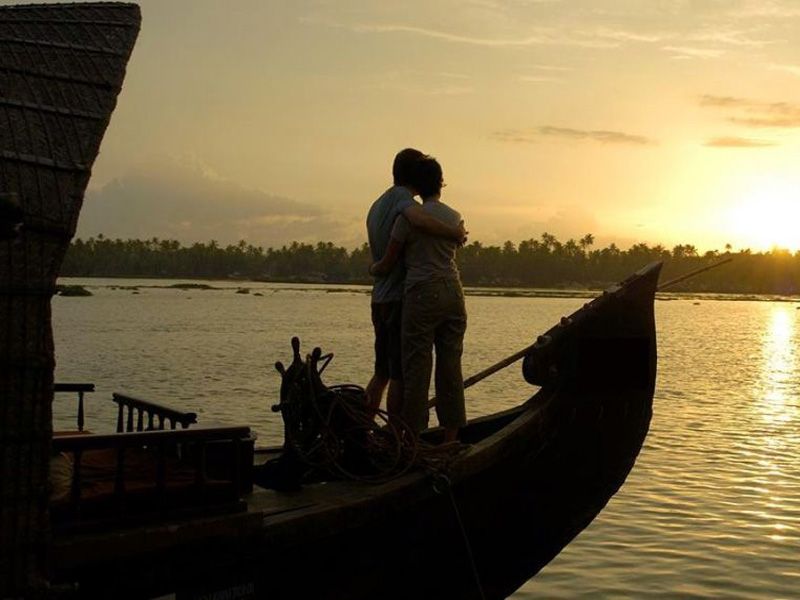 For our guests who choose Tyndis Honeymoon Package in Kerala, we handpick the accommodations to go well with the romantic feel. For instance, our guests at Coorg will stay in the Orange County resort and benefit from a variety of exclusive services and facilities to enhance your overall experience. For a perfectly private and peaceful stay in Nileshwar, you will be put up at the Malabar Ocean Front Resort & Spa. The spacious cottage with private balconies offers panoramic views of the turquoise waters of the Arabian Ocean.
Choose Tyndis for Best Honeymoon Package
We promise you will experience beautiful locations that nature offers in various forms, delicious food, great entertainment, wonderful accommodations and plenty of pampering. So look no further, Get in Touch with us and we will take you for the best honeymoon package in Kerala that ensures you have best of time.