12 Nov 2020
Kerala Honeymoon Package: Best Honeymoon Destinations in Kerala
Are you planning for a honeymoon trip soon? If yes, Tyndis Kerala Honeymoon package can assure you a mind-boggling trip of a lifetime. Kerala has been a perfect honeymoon destination in India for many; as it has myriad shades of natural beauty to suit every couple's tastes.
For a couple, the honeymoon is a time when you discover each other's interests. When you share your interests with Tyndis; we curate your personalized Kerala honeymoon package. Take our Kerala honeymoon tour packages to enjoy every aspect of this enchanting state while you make memories with your better half. As newlyweds, you should enjoy a hassle-free trip while we will take care of all your hotel booking, logistics, ticketing and food.
When couples walk hand in hand enjoying the breath-taking views of the beautiful state of Kerala, love between the two of you will be a symphony of perfect harmony.
If you are unfamiliar with places in Kerala, here is a peek into what our Kerala Honeymoon Package can offer for you:
1) Cochin Honeymoon Packages
If you are looking for a fast-paced honeymoon, Cochin honeymoon packages will be the right choice! Cochin (Kochi) – the port city, is the largest and the most vibrant city in Kerala. The culture of Kochi is significantly more cosmopolitan than the rest of the state.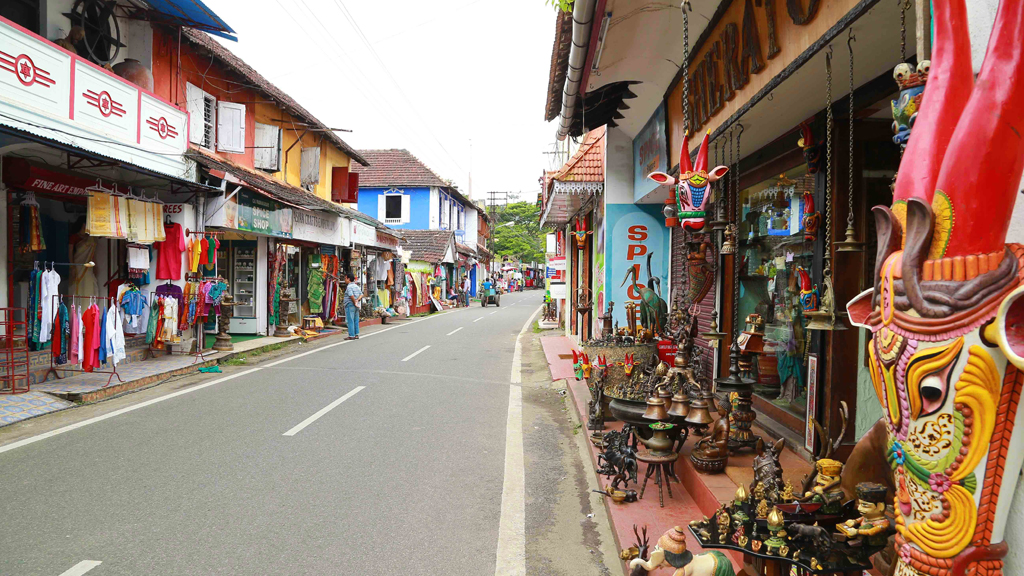 At Wonderla water amusement park, you can easily spend a day or you can choose to indulge in some adventure waters sports at the Cherai Beach before you two relax to watch the sunset. The city has well-known cafes, pubs and international chain of fast food joints in addition to traditional eateries.
Take a walk along the breezy walkway at Marine Drive, watch the fishermen let down the Chinese fishing nets, click few selfies on the rainbow bridge or go for the sunset cruise. At Fort Kochi, you can buy fresh catch from the fisher folks, get it cooked at the adjoining shacks and relish the sea food in fifteen minutes with your loved one by your side.
For history lovers, there is a lot that the lanes of Fort Kochi and Mattanchery have to offer. You can scout for some antiques, spices, and handicrafts from the bazaars at the Jew street in Fort Kochi. You can escape the heat outside and shop at Cochin's Lulu shopping mall for some top national and international brands. The city has enormous shops that offer wide choices in pure silk sarees and gold jewelry too. Kerala Honeymoon Package gives you the best experience of each of its destinations.
2) Munnar Honeymoon Packages
The romantic weather and the beautiful landscape of Munnar perfectly compliment the celebratory mood of honeymooners. No wonder that Munnar honeymoon packages are one among the many sought-after destinations by newlyweds from around the world!
You can go out to visit the beautiful mountain viewpoints, waterfalls, tea plantations, or just spend quality time in the arms of your better half, staying at breathtaking plantation resorts close to some woods or a luxurious resort. Look out of your window in any direction and this famed hill station of south India will definitely have a picturesque view to enjoy.
3) Thekkady Honeymoon Packages
At Thekkady, honeymooners can go boating in the Periyar river and experience an elephant ride together at the Periyar tiger reserve. The adventure seekers among you can also indulge in safari, bamboo rafting, go trekking up the woods or stroll within a cardamom plantation.
Just five kilometers from Thekkady is the gorgeous hill station of Pandikuzhi, closer to Tamil Nadu border. You can spend your day at this less touristy, awe-inspiring locale that offer picturesque vistas with pristine waterfalls, gushing streams and lush green hills.
4) Kovalam Honeymoon Packages
If sipping coconut water by a pool or lazing on the beach, is your idea of a honeymoon, then Kovalam is the place to be. Kovalam is near Thiruvanthapuram, the capital city of Kerala. The waves in the blue waters crashing on the rocks, the warmth of the sun closer to dusk, and swaying palm fringes make the beaches here perfect for your romantic walks.
For those who love some thrill with romance, enjoy water sports, swim with the waves or play beach volleyball. Parasailing, windsurfing, waterskiing, and boat sailing are some of the famous adventure water sports activities that two of you can indulge in the peaceful Karaman river.
There are quite a few massage centers to enjoy ayurvedic massage or a revitalising spa treatment together.
5) Alleppey Honeymoon Packages
Alleppey also known by the locals as Alappuzha is famous for its palm fringed backwaters, the laid-back beaches, boat races, beaches, green paddy fields, coir industry, beautiful temples and few spots of historic prominence.
Getting married is such a joyful and memorable time in your life and you owe to extend this happiness with a wonderful Kerala honeymoon package. The houseboats of Alleppey have been bestowed with an ambience of love and romance. In our Alleppey honeymoon package, spending a night in a houseboat on your honeymoon will be a bliss!
The backwaters of Kumarakom and the bird sanctuary here is popular among the tourists too.
6) Wayanad Honeymoon Packages
If you're the kind of couple who craves a little adrenaline and adventure alongside your chilled champagne and rose-petal-strewn bed, visit Wayanad for your honeymoon, to sate that desire. You have the chance to go trekking on Chembra Peak, the highest in Wayanad and have a bird's eye view of the enchanting freshwater lake below, from the summit of the mountain. If you feel trekking uphill is a Herculean task then you can choose to camp at the foothills of the mountain. The village life of Wayanad is interesting too.
An hour away from Chembra is Kalpetta town. To see the cascading Soochipara waterfalls situated here, you will have to go rock climbing within a montane forest. Like most of the other popular honeymoon destinations, nature has blessed Wayanad with untamed wilderness. Here you can visit few ancient temple sites, do boating, go on an off-road trip or may encounter elephant encounters from up close.
In the Malabar region (North Kerala), there are several less explored honeymoon destinations like Bekal and Neeleswaram. We have a specialized Kerala honeymoon package for the Malabar region, which is easily accessible from Bangalore.
7) Vagamon Honeymoon Packages
For couples who love to be amidst nature with few elements of adventure, Vagamon is a good choice to select from the destinations included within Kerala honeymoon package. Exploring the wild at Ulipooni Wildlife sanctuary, taking long mountain walks, paragliding, kayaking, trekking to the Maramala falls, rolling down the green hills, and dancing between the artificially created pine forest are some of the activities to do in Vagamon.
Couples can have some good time by trying hill top camping at Thangalpara Valley. You can cozy up near the bonfire, groove to the beat and take some stunning shots from atop.
USP of Kerala Honeymoon Package
God's own country is home to some of the best honeymoon destinations in India. The fabulous scenery of Kerala with its serene lush greenery and gently flowing backwaters makes it an ideal setting for pre-wedding and post-wedding shoots, honeymoon or a destination wedding. The USP of Kerala honeymoon package is that it has something to offer for everyone.
The saying, "good things come in small packages" is true in the case of Kerala honeymoon package. This small state within India has hill stations, wildlife reserves, waterfalls, lush green hills, beaches, sea and backwaters. Kerala honeymoon package has the best of ingredients for curating unique and unforgettable honeymoon memories with your beloved.
Book Kerala Honeymoon Package by Tyndis
Now that you know the USP of Kerala and what each spot has in store for you, choose the right combination, to suit the taste of each other. Tyndis Heritage travel and tour company can design excellent Kerala honeymoon package for you. If you wish to gift Kerala honeymoon package for any of your friends or family members, remember to contact Tyndis travel and tours.
Our tip for honeymooners is, not to fill your schedule with activities during your honeymoon trip, instead be present together in each moment, spend time understanding each other at the best locales. Come back together again for an action-packed holiday, this time visit all the wonderful destinations included in Kerala tour package.