06 Oct 2020
Top Places to Visit in Munnar: Munnar Tourism
Searching for the best places to visit in Munnar? We have the best of Munnar Tourism listed for you!
It is not surprising that many visitors match up Munnar to paradise on earth. If you are seeking a magical destination with pleasant weather in an otherwise humid Kerala, Munnar is a safe bet. If you are looking for places to visit in Munnar, then this popular tourist destination in Kerala has the natural beauty of hills, mesmerizing waterfalls, layered tea plantations, wildlife spotting, and the opportunity to go boating or trekking.
Right when the air starts getting cooler en route to Munnar and the winding road unveil scenes of green hills and waterfalls, tourists begin to believe there are some wonderful places to visit in Munnar and this holiday destination is not simply a hype. In this blog, I have listed all the beautiful places to visit in Munnar. Tyndis Tours based in Kerala can be your travel guide during these trying times. We can take you to all the places to visit in Munnar, following all the safety protocols laid down by WHO, and identify a clean and safe hotel to make your holiday trouble-free. Read on to get a better picture of Munnar Tourism Destinations.
Here is our list of top ten places to visit in Munnar:
1) Munnar Top Station
To go back in history, the place that we know as Top Station today had the first monorail system in India. During the British era, it was a busy railway station chugging wagons of tea leaves and other goods from Kundala Valley to Munnar and Theni towns. In the near future, the Kerala Tourism department and the government has plans to revive the railway system again which was completely destroyed in the great flood of 1924.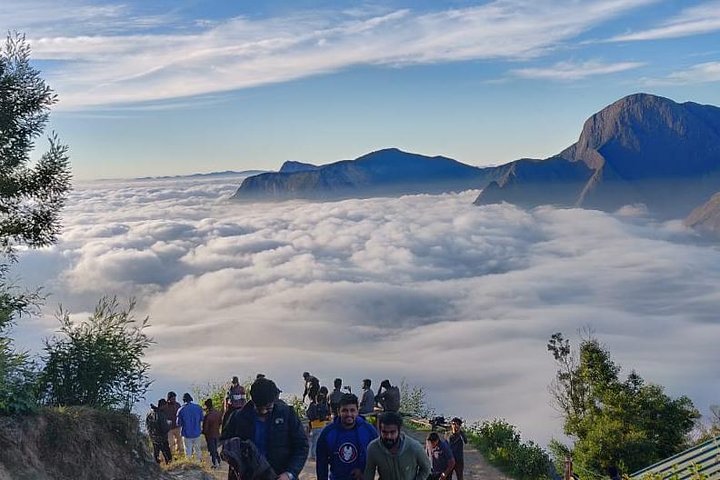 As always, Top Station visitors leave in awe after soaking in the panoramic view of the lush green tea plantations, serene valleys of Munnar and Theni, and the majestic Western Ghats.
At a height of 1700 meters above sea level, Top Station lies 32 km from Munnar on the border of Kerala and Tamil Nadu. One can hire a cab or bus from Munnar to reach the top. It is one of the naturally alluring places to visit in Munnar.
2) Echo point
Echo point is situated at a scenic lake bank on the way to Top Station. It is 15 kms far from Munnar town. As the name suggests, you can hear your voice reverberate back to you as an echo when you shout out to the mountains. The mist-covered green hills and the waterfalls attract you to have a nature walk through them. But the climbs around are all steep rocks. It is wise to carry a walking stick while climbing the rocky terrain here.
The terrain at Echo Point Munnar will help you maintain your balance while trekking to the top to reach Echo Point. You can take breaks in between to savor the cut fruits sold by the local hawkers here.
3) Tea Museum and Tea Factory
Among the places to visit in Munnar, this place will teach you the long journey endured by your cup of tea. Tata Tea established a Tea Museum in 2005 for visitors to understand the transitory journey of tea making process in this part of the world. The photographs and machines displayed speaks about the hardworking tea estate workers, and how the factory progressed from having a primitive tea roller to the present modern fully automated tea factory.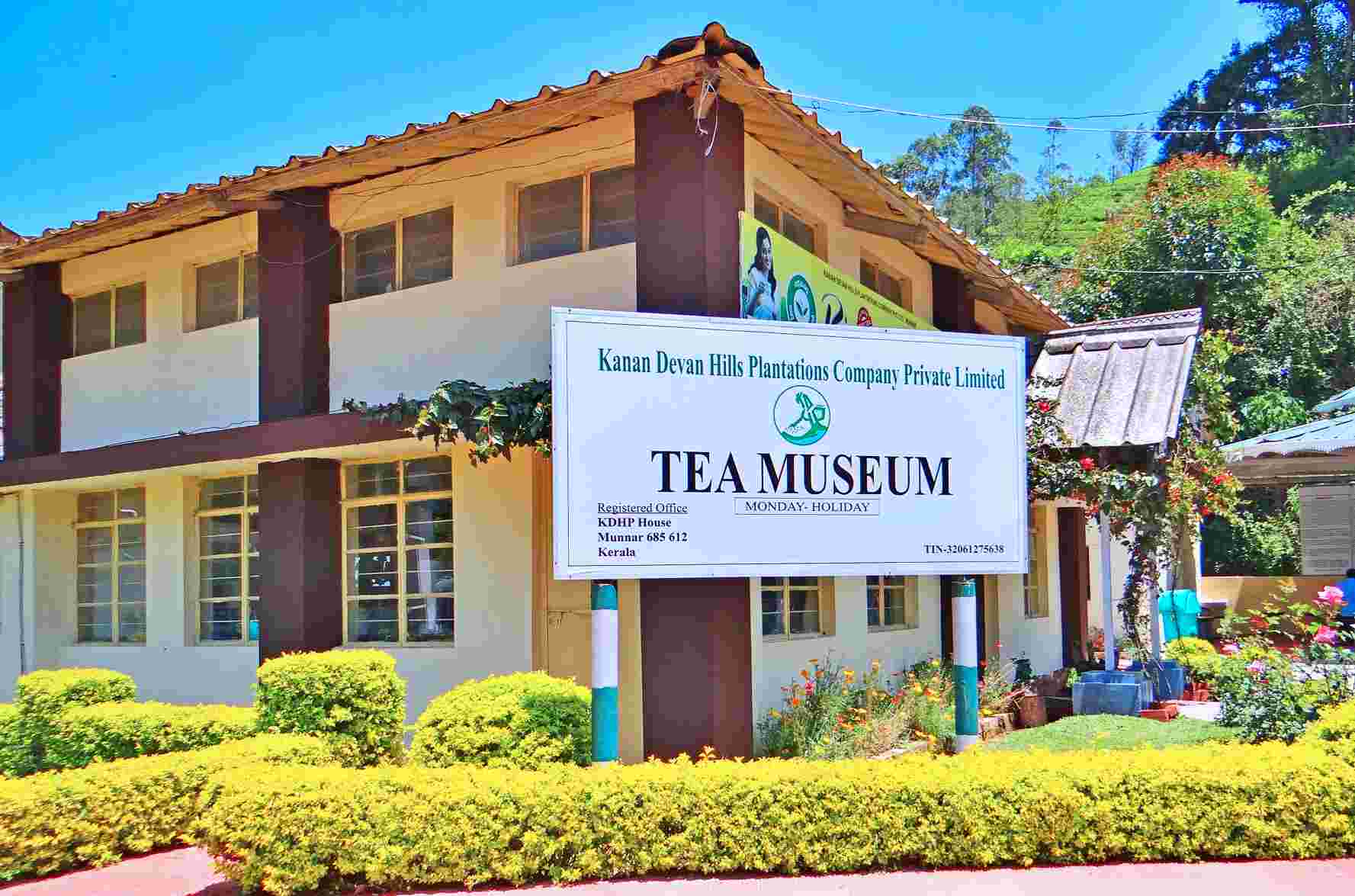 If you are a tea connoisseur, there is a demonstration room here for you to taste some of the most exotic varieties of tea available around the world. There is a curio shop for the shopaholics to take back home varieties of tea, aromatic oils, handmade chocolates and few knick-knacks for you and your friends.
Remember to plan your museum visit any day except Monday between 09:00 to 16:00 hrs. In our Kerala tour package, ask for Tyndis tea tales trip to enjoy your Munnar package.
4) Lakshmi Tea Estates
If you actually want to feel nature from up close, you need to enjoy trekking. Trekkers constantly scout for new places to visit in Munnar. 3 kms from Munnar town, Lakshmi Hills is a tea estate that allows tourists to have a two-hour tea plantation walk along with their guide. This two to four kms trek uphill rugged path is absolutely worth it if you are a nature lover.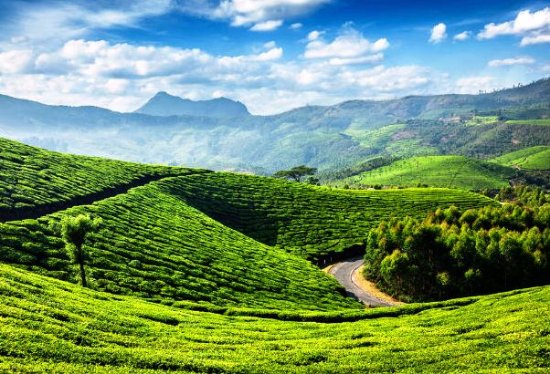 The chilly breeze, the breathtaking views of misty hills and lush meadows is an experience of Munnar Tourism worth considering if you are reasonably fit.
5) Viripara Waterfall
If you have ever wished to imitate the bath at the falls as in the Liril ad, then just pay 50 bucks and soak yourself under Viripara waterfall. Viripara Waterfalls is just 15 kilometers from Munnar town, near Lakshmi Tea Plantation. The 4X4 Jeep climb up to the falls from the parking lot gives you a semi-off roading experience.
The best time to visit Viripara Waterfalls is during the monsoon. It is a good idea to pack your picnic basket too on your visit to this place.
6) Mattupetty Dam
Mattupetty Dam is among the popular places to visit in Munnar. This dam was constructed in the 1940s for hydropower generation and water conservation. 13 kms from Munnar town, Mattupetty dam is not just a major source of electricity in the region but also a popular tourist spot. With abundant water all through the year, this dam attracts many tourists as it presents an excellent viewpoint and a chance to do different activities, like boating, bird-watching and watersports. To do something more adventurous, you can trek to Shola forests that lies 3 km from the dam.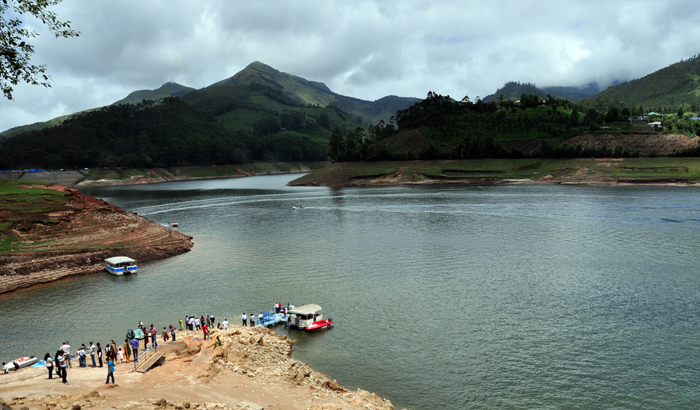 7) Pothamedu View Point
About 6 km from Munnar town, Pothamedu provides a bird's eye view of the entire Munnar and the Muthirapuzha River at a distance. For photographers seeking picture-perfect shots, this place is one of the ideal destinations in Munnar. Besides tea plantations, trekkers can take long nature walk among the coffee and cardamom plantations too.
8) Eravikulam National Park
Eravikulam National Park, a UNESCO World Heritage Site is 45 minutes' drive from the city centre of Munnar, and it tops the list of the recommended places to visit in Munnar. Anamudi, the highest peak in South India stands tall here at 2,695 metres. With 97 square kilometers of land spread, this national park looks unique with the setting of beautiful tea plantations around.
Trekking within the Anamudi is quite popular among the trekkers. You can choose to either take the three-hour long Kurinjo trek to spot the Nilgiri Tahr among the grasslands or go for the one-hour short trek through the wilderness to watch the rejuvenating Lakkom Waterfalls.
Eravikulam is the natural habitat of Nilgiri Tahr, the endangered mountain goat. There are over 250 species of flowers found in these hills but Munnar is particularly known for Neelakurinji – the blue flowers that bloom once in 12 years. This national park is a great location to enjoy the mass blooming of these flowers. Neelakurinji blooming period is one of the busiest period for Munnar Tourism. The next mass blooming of the Neelakurinji flower will be in 2030. But you don't have to shelf your plan to visit Munnar until then, because the enchanting beauty of Munnar will draw you back again and again to this land.
The Eravikulam National Park opens at 7:30 am and closes down by 04:00 pm. The park remains closed during the calving season of Nilgiri Tahr which is usually from January to March. The entry fee to the national park for Indians is Rs 125.
9) Chinnar Wildlife Sanctuary
50 kms from Munnar, Chinnar wildlife sanctuary is yet another UNESCO World Heritage sanctuary that is a marvelous biodiversity hotspot. It is one of the iconic places for Munnar Tourism. Though a bit away, we feature Chinnar in top places to visit in Munnar because it is worth the travel. Spread across 90 sq km., this sanctuary is the only rehabilitation center in the wild for star tortoises and is home to wide species of plants, animals and birds.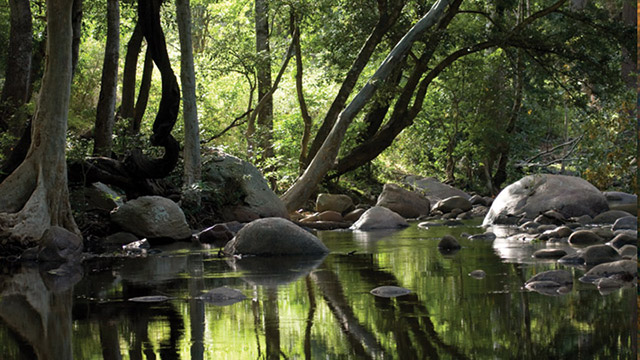 Trek to Thoovanam waterfalls is a popular moderate level trekking trail in Munnar. This 4 km trekking trail is a guided programme and usually takes 3 hours. Following the trek, you can take a dip in Pamba river to soothe those tiring muscles or just gaze at the beauty of cascading falls. There are jungle safaris arranged to visit the tribal settlements and historic villages in the vicinity.
10) Attukad waterfalls
Just 9kms from Munnar town, is the Atukkad Falls situated in between Munnar and Pallivasal. The roaring waterfalls amidst the peaceful green surrounding Munnar look ethereal! An adventure enthusiast should definitely include this in their list of places to visit in Munnar.
If you are a rappelling enthusiast, get your gears along to climb up the rocky stretches around the falls and rappel down the rocks. You can choose to go on guided treks in the deep woods or relax by the rocks and watch the beauty of the falls.
Best time to visit places in Munnar
Now that you know of all the places to visit in Munnar, decide on the best time to visit Kerala. If you are seeking the mist-covered vistas and cool evening breeze, the winter months of October to February is the best season to be in Munnar. On the other hand, if you are someone who enjoys clear blue sky and verdant green sceneries, then March to May, will be an ideal time to experience Munnar Tourism. Following summer, from June to August, Munnar experiences rainfall. This is the time to enjoy the waterfalls and the dam area.
It is advisable to always pack woolen clothes and scarves on your tour to Munnar.
Choose your Places to Visit in Munnar with Tyndis
Munnar Tourism has a lot waiting for you! Book Tyndis experiential Munnar holiday package to get the most out of your holiday. Do visit our site to know about the array of Kerala tours we have done and the positive customer reviews we have garnered. Be it just a Munnar trip or a customized Kerala holiday package, Tyndis will be always at your service. Feel free to write to Tyndis and leave your contact details. We will get back to you with a holiday package designed as per your needs.
Tyndis tours follow the safety and hygiene standards recommended by the government of Kerala and WHO to ensure the wellbeing of all our customers booking a holiday with us.