11 Nov 2019
Best serene beaches in Kerala – Kerala Tourism
Beaches in Kerala are one of the most celebrated assets of Kerala Tourism. Kerala is one among the Indian states with so many beachside Kerala Tourist Places.
To forget city stresses, there are fewer things better than a trip to a beach and dip in the sea. In India, Kerala features among the top beach destinations. Reason being the exclusively beautiful coastline!
Nature has bountifully blessed this state with lagoons, backwaters, estuaries, spits and bars, which are beautiful embellishments that adjoin the beaches of Kerala. All year through, the famous beaches in Kerala draw here tourists in droves. Here's our pick of best beaches in Kerala for solitude seekers to explore.
1. Thottada Beach in Kannur
Situated on Kannur-Tellicherry highway, Thottada is an 800 meter stretch of palm-fringed clean virgin beach. It is more popular among the three beaches here, the other two being Ezhara and Kizhunna. It is one of the best Kerala beaches near Bangalore.
This village preserves the raw beauty. Banana plantations and palm trees grow around this place. You can see Thottada River meeting the sea here. A channel from the river deviates away from the sea to form swamps which make a great habitat for various birds and fishes. Bird watchers would love to amble around with binoculars. These peculiarities make Thottada one of the best beaches in Kerala.
But if you prefer to stay on the beach then you can beach comb for miles without encountering crowds, have a bracing dip in the sea and have peaceful sunbath lying on the clean white sand. If you are in a group then it would be fun to engage in a game of beach football or beach volleyball, as it is almost like a private beach. If someone were to pick the top ten beaches in Kerala, they wouldn't want to miss out Thottada.
The nights are magically dark here. You can opt for a beach house bang on the sea or a guest house next to the beach for an overnight stay. As there is absolutely no shop or restaurant on this beach, pack some food and water if you intend to just spend a day at the beach.
2. Kizhunna Beach in Kannur
Tucked away 11 km from Kannur city centre, Kizhunna beach lies towards the south of Thottada beach and north of Ezhara beach, but the rocks around impede you to walk from one beach to other. This tiny fishing hamlet offers a haven of relaxation. It is yet another member of Kerala beaches near Bangalore.
Silver sands, rocky promontories and gentle wind make up the landscape of this beach at Kerala. Kizhunna features one of the best beaches in Kerala. You can watch the boats bobbing in the blue water, mussel farming, have a sunbath or walk barefoot on the soft white sand by the sea.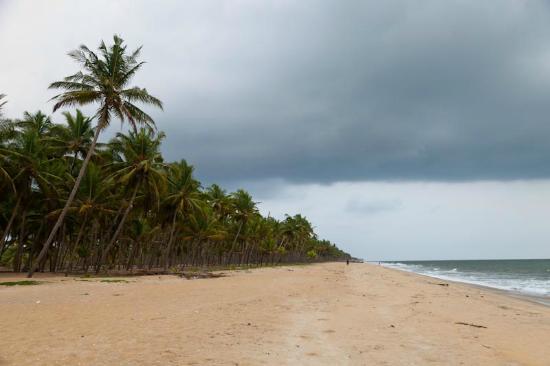 As this beach is largely secluded, tour guides like Tyndis can arrange for activities like cycling and beach volleyball. There are no restaurants around here but you can plan for a one night stay at one of the resorts on the beach. Kizhunna Beach has lots of small Kerala beach stay available for booking.
3. Bekal Beach in Kasaragod
If you are travelling with children then a trip to Bekal beach will be an ideal choice. Lying 16 km from Kasaragod (North Kerala) bus station, this famous beach place is an epitome of classic beauty that one yearns for on a beach holiday. Bekal Beach is one of the famous beaches at Kerala. It is yet another among the Beaches near Bangalore in Kerala.
Sweeping white crescent, framed by lush green vegetation and rocks is how one can portray Bekal beach. It is one of the best beaches in Kerala for leisure trips. The Bekal Fort by the sea provides for an imposing view from the beach and adds a whole new dimension to the beauty of the sunset. This is the location where the mesmerizing 'Tu hi re' song sequence from the movie Bombay was filmed. Roll up your trousers and splash through the shallows or join your children in building sandcastles on this Kerala beach.
As this Kerala beach is well-lit, visitors can stay on and enjoy the sea breeze well past sundown. Trees planted on the beach along the beach-front promenade and the beach huts put up to rest your weary feet set Bekal apart from most other beaches at Kerala. This undoubtedly makes Bekal one of the best beaches in Kerala.
A rock garden, beautiful Theyyam sculptures and traditional mural art are few sights around the beach for art lovers. If playing on the beach is not enough then Bekal Hole Aqua Park, a kilometre away offers more water-based fun activities. There's a children's park next to the beach too. Tourists can manage to find Kerala beach stay in Bekal or nearby.
4. Thaikadappuram Beach in Kasaragod
Just 8 hours drive from Bangalore; Nileshwar in North Kerala can be a great getaway destination during long weekends. Choose the deserted shores of Azhithala and Thaikadappuram beaches in Nileshwar to unwind from the city stresses. These two beaches in Kerala is a secluded stretch of white sand lapped between the blue sky and clear blue sea.
Watching the estuary where Tejeswani River meets Arabian Sea is a charming experience. If you plan your travel between September-January, then do visit Thaikadappuram Beach nearby. If you are lucky enough get a glimpse of the rare Olive Ridley Turtles as they arrive on the seashore to lay eggs.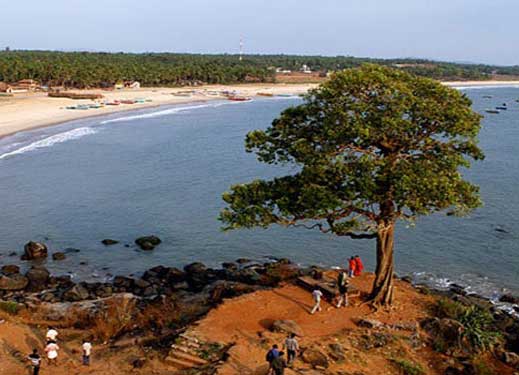 You can experience the essence of fishing harbor with Tyndis in this village. An overnight stay in a houseboat on the backwaters is also an option. The place also offers various Kerala beach stay options.
5. Mararikulam Beach in Alleppey
If you are looking at a quick weekend getaway from Kochi, Marari beach fits the bill. Located in Alleppey, this splendid beach can be reached in little more than an hour. The main part of this south Kerala beach is dotted with colourful parasols and a few cafes. But if you go further away, parallel to the beach there are quite a number of resorts. Most of them claim to have private beach access.
Mararikulam village is well-complemented by a serene and peaceful atmosphere. You can go on a long beach stroll or find a deserted stretch of the beach among the fresh groves of green palm and unwind lying on a hammock. Marari is regarded as one of the best beaches in Kerala.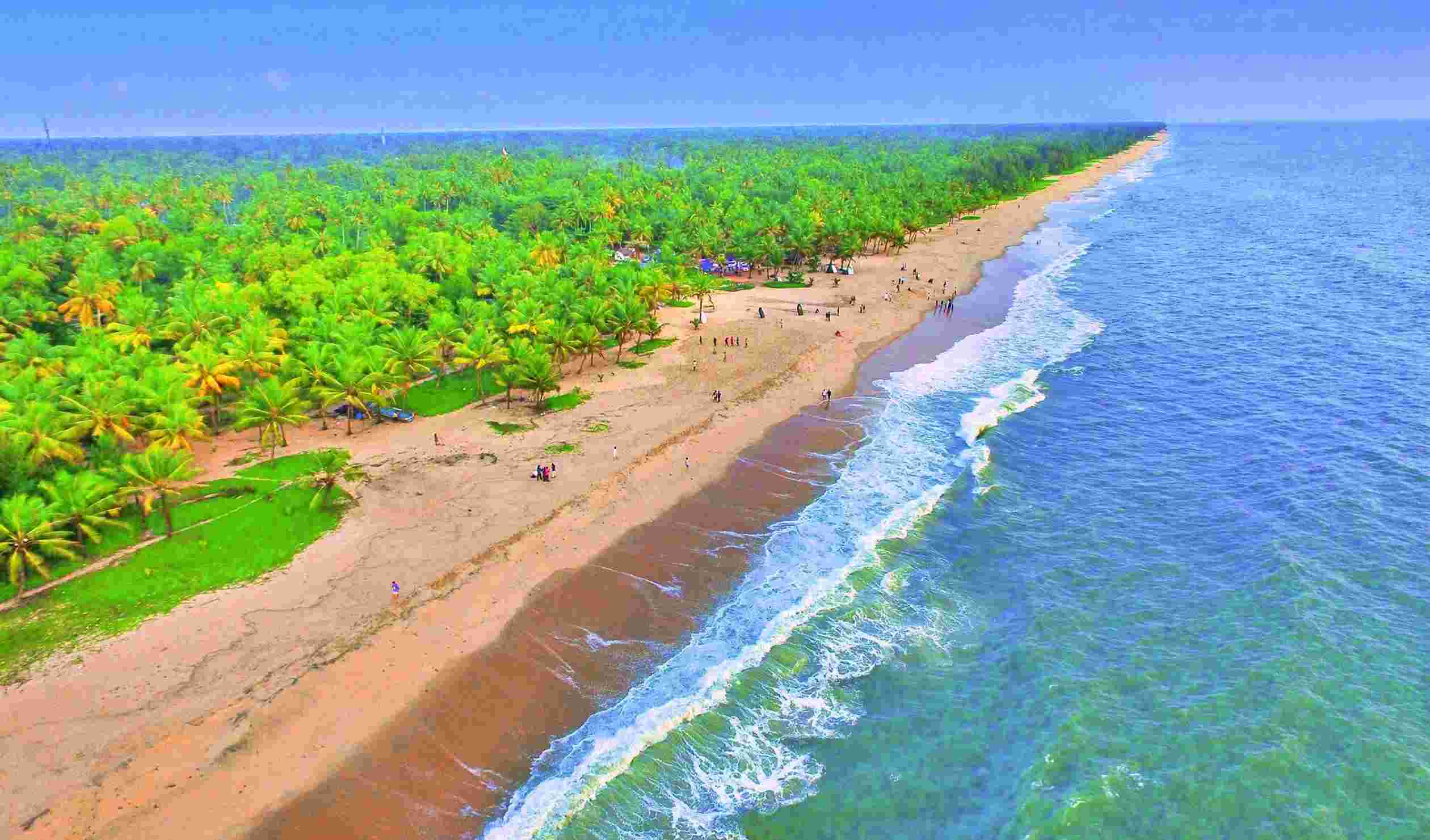 The lofty waves here are sure to interest adventure freaks. Approach guided tour operators to choose watery pleasures like sea surfing, parasailing, water skiing, and deep-sea fishing. There are a lot of best Kerala beach stay options available in Marari.
6. Varkala Beach in Trivandrum
If you are in the Thiruvanthapuram, Varkala beach (also known as Papanassam beach) is an alluring alternative to the commercialized Kovalam beach. Not sure if your sins will be washed away but a dip in this water will definitely refresh you.
Varkala beach is one of its kinds in Kerala as this is the only place in the state where you can savour the sight of waves crashing on a hill cliff. Though the water is pristine blue, it is flanked by long wide blackish sand.
Here you can engage in adventure and leisure activities like jet boat rides, surfing and paragliding, ramble along the dramatic cliffs scouting the many souvenir shops around or feast on fresh seafood at the rustic shacks on the cliff. This beach serves up one of the best sunsets. It is one of the most celebrated and best beaches in Kerala.
As the capital city is about an hour a half away from here, you have an option to rent scooters and travel to all the major attraction around.
The sound of the sea waves and the feeling of warm sand beneath your toes is proven to have a profound impact on our mental health. Now that you know the beaches in Kerala to go to for absolute tranquillity, get your backpack ready and Get in Touch with Tyndis for Kerala Beach Tour Packages including the best beaches in Kerala that we customize to suit your taste and budget.