22 May 2020
Malabar in Kerala – The Gateway of India Tour: Kerala Tourism
Where is Malabar in Kerala?
In layman's language, the five North Kerala districts (Calicut or Kozhikode, Kannur, Kasaragod and Wayanad) and places lying to the north of Bharathappuzha River together form the region of Malabar in Kerala. The word Malabar evokes in your mind the aroma of fresh spices, coffee and Malabari Biriyani. North Kerala is an important element of Kerala Tourism.
Malabar in Kerala is definitely famous for the above-mentioned things. At Tyndis, we have specially curated North Kerala tour packages such as the spice plantation stay and tour, biriyani making tour and North Kerala market tours, etc. to explore more about Malabar in Kerala.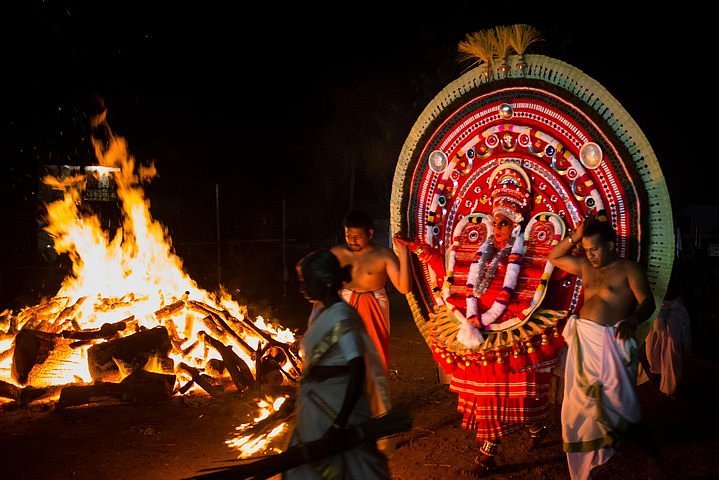 But in addition to all these, tourists visiting Kerala should know Malabar in Kerala – this region that was once a silk route hub has much more to offer, like the Theyyam dance, Kalaripayattu martial art, Beypore Uru making, authentic Ayurveda, North Kerala Handloom, Mangrove forests, forts, serene beaches, religious places of interest, and much more. The landscape of North Kerala presents an amazing diversity of forests, hills, plains, valleys, rivers and a variety of flora and fauna.
The Culture of Malabar
In ancient times, the natives of Malabar in Kerala followed Dravidian rituals like worshipping village deities, war goddesses, ancestor adulation and nature worship with sacred groves. These practices have evolved and found expression in dance forms like Theyyam. Theyyam is an important ritual and top attraction of Kerala Tourism.
The region has a rich history and the culture here was largely driven by trade till the 15th century. Arab, Chinese and Roman vessels converged on the Malabar Coast to trade for centuries. There are several reasons that ushered a splendid sea-trade history in Malabar in Kerala, such as favourable sea winds, natural protection provided by the harbour for ships to drop anchor, reasonable tax and the royal patronage that ensured safety at ports for hassle-free business transactions.
Having cordial trade relation with various countrymen for centuries has definitely instilled hospitable, helpful and friendly nature in people from Malabar in Kerala.
Royal Lineage of Malabar Rulers
During the Sangam period (3rd – 4th century BC), the Kozhikode area was an uninhabited region of the Chera empire. Tyndis port, situated towards the south of Kozhikode (around today's Kadalundi) was a flourishing seaport in those times.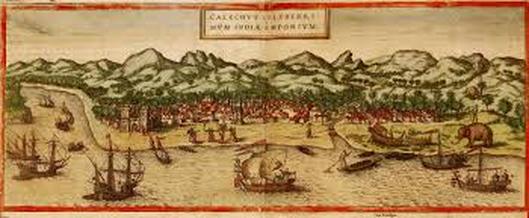 During the 1st to 5th century AD, Ezhimala kings ruled the region around Ezhimala. Thereafter the kingdom was taken over by the Mushika family. The Cheras (also known as Perumals) continued to rule most part of Kerala until 1102 AD but they had alliances with north Kerala kingdoms too.
Kolattunadu – one of the four most powerful kingdoms on the Malabar Coast, comprising of present-day Kannur and Kasaragod rose to power in the 12th century after the Chera dynasty disappeared. Kolathiri kings who ruled the land till the 17th century were descendants of Mushika, Cheras and the Ay dynasty. They had their capital at Ezhimala.
The flood of Periyar in 1341 A.D did great damage to the harbour of Kodungallur (it was a busy port probably known as Muziris in the first century BC where Phoenicians, the Egyptians, the Greeks and the Romans flocked in for trade. This port was also the gateway for various religious faiths like Christianity, Judaism, Islam and others) in central Kerala.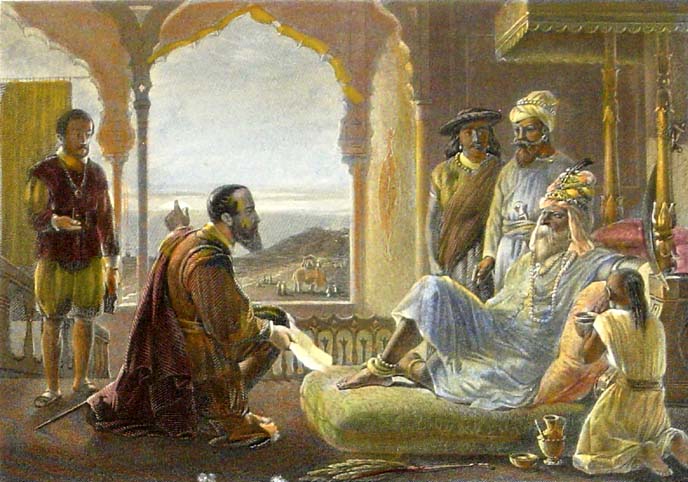 Taking advantage of the situation, an ambitious Samoothiri or Zamorin killed Porlathiri of Polanad and developed a port and huge army in Kozhikode. Soon with wealth flowing in from trade the Zamorin of Kozhikode became one of the most powerful rulers in Kerala.
Chirakkal kingdom branched out of the Kolathiri dynasty and later in the 16th century, Arakkal dynasty was formed when a Chirakkal princess embraced Islam after marrying a Muslim man. It is the only Muslim royal family that rose to prominence in Malabar in Kerala. Learn their story with Tyndis Kannur Arakkal Trail. It is one of the best heritage tours under Kerala Tourism in North Kerala.
Religions that reached Malabar in Kerala
Chandragupta Maurya was one of the greatest rulers of ancient India who managed to consolidate several small kingdoms of Indian sub-continent.
In 3rd century BC when he had embraced Jainism, he arrived at Shravanabelagola, near Mysore along with Jain saint Bhadrabahu. As a goodwill gesture, he sent Jain monks to visit several rulers in South India including the rulers of Malabar in Kerala. As a faith that preaches harmony, Jainism found easy acceptance and many shrines were built in the Malabar in Kerala.
There is evidence that point Buddhism had arrived in Malabar around the 12th century when the emissaries sent by Emperor Asoka had visited the rulers here. Some Mushika rulers are known for their patronage to a famous Buddhist Vihara in central Kerala. Presence of Jewish merchants is also speculated in the ports of Mushika kingdom. Madayi in Kannur still has a small pond known as the Jutakkulam.
Immigrant Brahmins, mostly from South Canara settled down in 32 villages of Malabar in Kerala around 13th century. Soon Brahmins grew stronger and they turned Buddhist and Jain shrines to Hindu temples. Koodalmanickam temple at Irinjalakuda in Thrissur was once a Digambara Jain shrine but today a Hindu temple dedicated to Lord Rama's brother Bharata.
Both Ganpati Vattam in Sultan Bathery and Bhagavathy Temple atop the Edakkal caves were once upon a time Jain temples. You also get to see several ruins of Jain temples in Wayanad that perished with time.
Much later in 1027 AD, when Muhmud Ghazni had invaded the coast of Saurashtra in Gujarat many Jains had fled to Kozhikode. Zamorin who was a liberal ruler gave them some land to settle down and construct their Jain temple at Thrikkovilthekku near Valiyangadi.
Zamorins – the rulers of the Malabar in Kerala were tolerant towards other religions and facilitated construction of places of worship for visiting traders. Thus Islam made its entry in Malabar without any force through the Arab traders. The Muslims of Malabar in Kerala played a major role in the local army, navy as well as appointed as ambassadors to Arabia and China representing Malabar.
This is just a preview on the history of Malabar. If you liked this blog and keen on visiting the tourist places in North Kerala, do Get in Touch with us. Tyndis Team will get back to you with a Kerala Tourism Package that is tailor-made as per your taste and interest.