19 Dec 2020
Top 10 Charming places to visit in Alleppey: Alleppey Tourism
Alleppey, also known as Alappuzha is the smallest district in Kerala; but is one of the most popular tourist destinations in the state. There are plenty of amazing places to visit in Alleppey. Also known as the "Venice of the East", tourist places to visit in Alleppey enchants its visitors with beautiful backwaters, wonderous canals, lagoons, gorgeous soft white sand beaches, and swaying coconut palms along with the green paddy fields. Alleppey Tourism has one of the top places when it comes to the most preferred destinations under Kerala Tourism.
If you are looking for a Kerala tour package, Tyndis Heritage travel company promises you a memorable holiday. Our storytellers will unravel the story behind each location, making your trip more enriching and entertaining.
The history of Alleppey is almost 2000 years old and it is among the oldest planned towns in India. Here are the top ten tourist places to visit in Alleppey on your tour in Kerala:
1) Vembanad Lake, Alleppey
Among the places to visit in Alleppey, cruising on houseboats, and soaking in the natural beauty around 'Vembanad – the longest lake in India' is a must-do activity. This lake has an intricate network of estuaries, lagoons and canals. If time permits, you should definitely explore them; as each one of these geographical features has its own beauty.
To explore the backwaters, a few hours of tour on a houseboat is a good idea. Guests have the option to stay in a houseboat too. You can choose to be in a deluxe or a premium houseboat. The later (as the name suggests); are superior to the deluxe houseboats as they come fully loaded with luxury furnishings, additional rooms and services. On board, you can look forward to binge on some of the best fish delicacies freshly caught from the lake.
There are some unique characteristics you can observe in the Vembanad lake; like the Thanneermukkom bund (dyke) – the largest mud regulator in the country that is built across this lake. This salt water barrier helps farmers living in the low-land region to grow additional crops in the dry season as it frees the area of salinity. Another interesting fact about this lake is that it is fed by ten rivers in the state before it meets the sea, which makes the water in the lake both sweet and brackish. To balance the ecosystem, the marshy areas have the Mangrove forests. You can go on a canoe ride to explore this part of the lake.
2) Punnamada Lake
Alleppey Tourism boasts both Vembanadu and Punnamada lakes alike. The generally calm Punnamada kayal (lake), turns to be the cynosure of all eyes during Onam season (Kerala's harvest festival celebrated in August-September). The reason being, it is the venue for the annual 'Nehru Snake Boat Race' (vallam kalli). It is one of the most prestigious events of Alleppey Tourism.
If you are in Kerala in August keep yourself free on second Saturday of August. There are many places to visit in Alleppey, but this is where you should be for the best view. The lake is surrounded by hundreds of boisterous onlookers from the houseboats, podiums near the finishing line and the hotels around, to cheer the oarsmen, as they row the snake boats in tandem with the pulsating rhythm of the traditional boat race song. These snake boats were once used to fight wars when the enemies approached via lake or river. This makes it one of the best places to visit in Alleppey.
As the width of this lake is just about 100-150 meters, you get to see the villagers engaged in their daily routine from up close. When you cruise along, don't forget to look around to see the temples, churches, resorts and houses on either side of the lake. As you drift further, Punamada lake meets the wider Vembanad lake. Here you see several houseboats wafting by, giving their guests an experience of a lifetime.
3) Kuttanad Backwaters
If you are looking for the greenest places to visit in Alleppey, Kuttanad is the one. As far as the eye can see there are green paddy fields. On the fringes of these fields, coconut palms line on the narrow embankments. To add to this amazing sight, there are criss-crossed water canals.
The main attraction for tourists visiting the scenic countryside of Kuttanad in Alleppey, is to see the beauty of below sea level farming. This technique of farming is unique in India; as it practices rice cultivation 4 to 10 ft below sea level. Since the last 150 years, the farmers living here have been cultivating rice on reclaimed delta swamp, without disturbing the biodiversity.
As Kuttanad lies low, the fields get flooded during the rainy season. This is when farmers grow freshwater fish and engage in duck farming. Alleppey Tourism is incomplete without Kuttanadu. Don't miss out on this place in your list of places to visit in Alleppey.
4) Ambalapuzha Temple
This is one of the best religious places to visit in Alleppey. With a whip in his right hand and a conch in his left, the deity in Ambalapuzha temple is the Parthasarthi form of Lord Vishnu. This temple, having a traditional Kerala style architecture; is believed to have been built during the 15th century AD by the local ruler
Ambalapuzha Payasam (kheer or the sweet rice pudding) served as an offering in this temple is well-known for its delicious taste. During the raids of Tipu Sultan in 1789, the Ayyappa idol from the Guruvayoor temple was brought to the Ambalappuzha temple for safe keeping for 12 years. Therefore, the faithful believe Lord Guruvayoorappan visits the temple everyday to accept the sweet offering.
The annual festival of this temple is held during March-April. During this 10-day Arattu festival, the believers join the elephant processions accompanied by Panchavadyam (an orchestra of five instrumental music). To watch cultural programs like the Velakali (a local martial art performance wherein the dancers wield swords and shields to depict a fight sequence between the Pandavas and Kauravas) people gather at the temple ground.
5) Mullakkal Bhagavathy Temple, Alleppey
Mullakkal is one of the busiest places to visit in Alleppey. Located here is the century-old bhagavathy temple. To appease Goddess Rajaeshwari, nine-day 'Navratri' (Mullakkal Chirappu) festival is celebrated with a colorful procession of nine elephants. Traditional dance forms like 'Ottanthullal' and a variety of other cultural programs are held during October-November.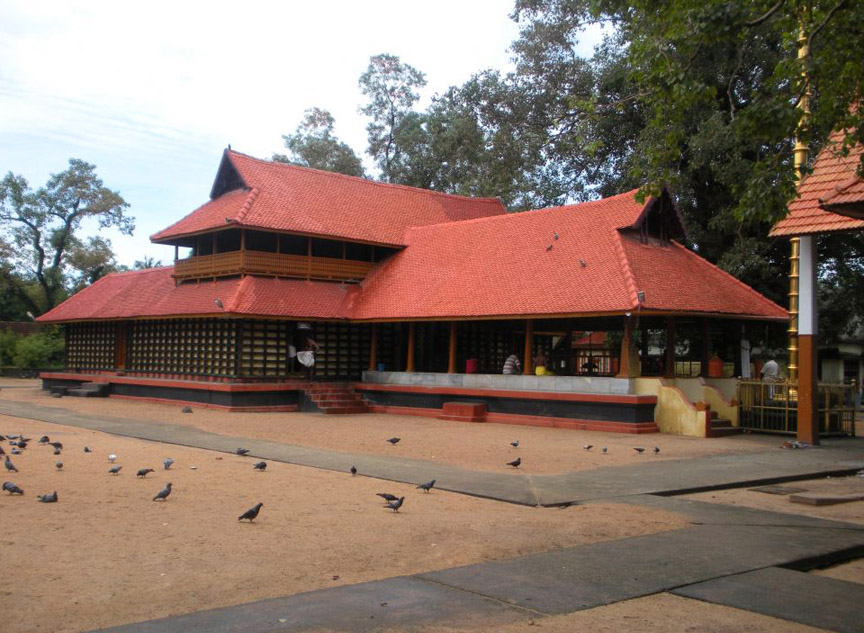 'Thaipooya Kavadi' – the legendary colourful ritualistic dance is another important festival celebrated in this temple. About fifteen dancers take part in the procession; twisting and spinning holding the 10-18 feet colorfully decorated wooden arch on their shoulders. A group of kavadi dancers moving in a frenzy to the rhythm of percussion instruments and shouting out 'harohara' make an exotic sight. Ambalappuzha and Mullakkal are the top pilgrim spots of Alleppey Tourism.
6) Krishnapuram Palace
If you are interested in mural art and traditional Kerala architecture, then it is worth traveling a distance of 47 km from Alappuzha; to see the magnificent Krishnapuram Palace and museum located in Kayamkulam. Built during the reign of a Travancore King, Anizham Thirunal Marthanda Varma; this palace cum museum houses many items of historical value.
The palace houses the double-edged sword known as Kayamkulam Vaal and 'Gajendra Moksha' – the biggest mural painting (covers 53 sq. ft.) in Kerala to name a few. The Krishnapuram Palace is currently maintained by the Archaeological Department of Kerala.
7) Kakkathuruthu Tyndis Island Visit Half day
Kakkathuruthu is a tiny island in the Vembanad lake. Among all the places to visit in Alleppey, Tyndis highly recommends taking a half-day trip to this island. We include Kakkathuruthu in our list of top Instagrammable spots in Kerala for its enthralling scenic beauty and for being a great spot for bird watching. It is one of the top-visited places under Alleppey Tourism in recent years.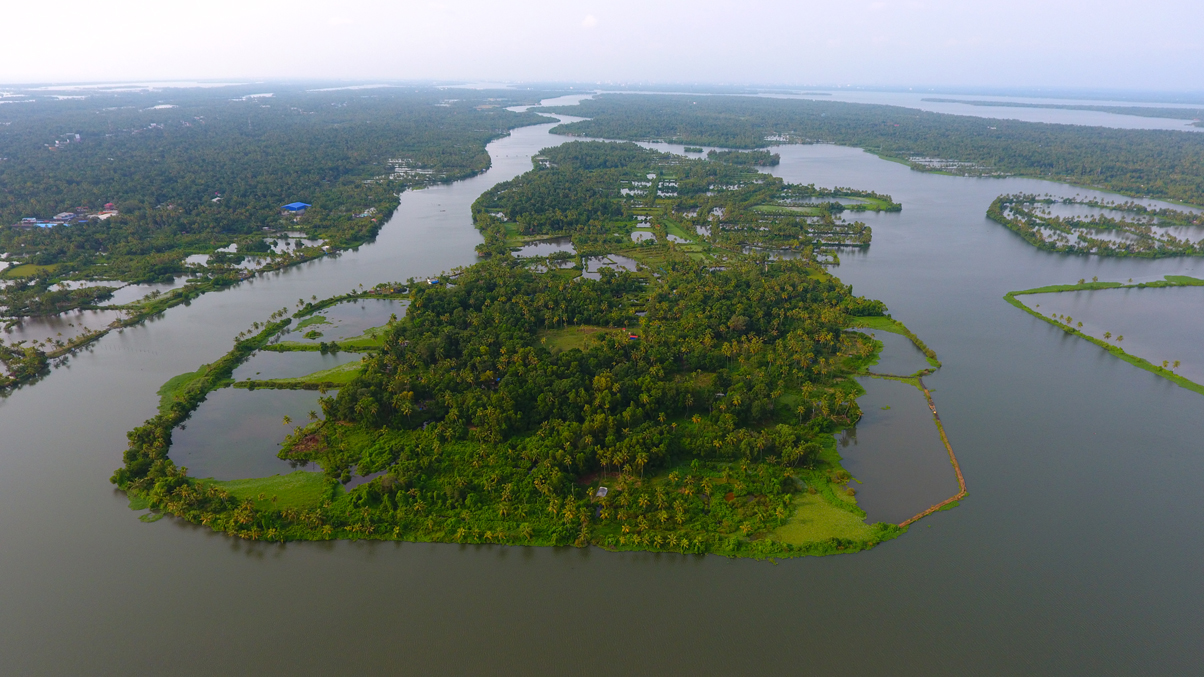 On Tyndis' half day Kakkathuruthu Island tour, you can visit a fish farm, watch villagers engaged in basket making, coir making, coconut leaves weaving, clam meat processing and toddy tapping in Kakkathuruthu. Love to click great snaps? Then have this place first in your places to visit in Alleppey.
8) Kumarakom Village Walk by Tyndis
The Kerala government has selected Kumarakom as one of the pilot destinations to implement the Responsible Tourism initiative. This ensures active participation from local communities and industries. Major livelihood activities of the people living on the shores of the lake include agriculture, fishing, tourism, inland navigation, coir retting, lime shell collection. There is a huge scope for village activities in spots like this under Alleppey Tourism.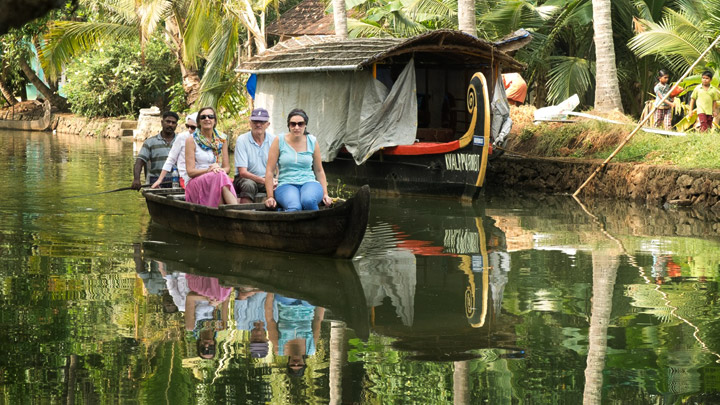 As a Responsible Tourism promoter, we recommend this spot as one of the places to visit in Alleppey. Tyndis representative will walk along with our guests through the lush green pastures and muddy roads to make you experience the village life and the occupations these villagers engage in.
9) Kumarakom Bird life sanctuary
Back in 1847, Alfred George Baker, son of a missionary from England developed the wetlands around Vembanad lake. He planted mangroves in 10 acres of the land here and in a few years, local and migratory birds adopted this land as their home. Today, Kumarakom Bird Sanctuary is home to nearly 25,000 birds belonging to 180 species of birds. The fantastic view of avian life and a morning walk early in the morning around this stunning landscape is any ornithologist's delight. If you are a nature enthusiast, then keep this place first in your list of places to visit in Alleppey.
This is one of the places to visit in Alleppey during rainy season. But if you fancy watching migratory birds, you have to visit the sanctuary from November to February. There is a bird watching tower and a resort within the sanctuary. Alternatively, one can view the birds from a houseboat or a motorboat when cruising through the Vembanad lake.
10) The Revi Karunakaran Memorial Museum
We all know about Shah Jahan who built the Taj Mahal for his beloved wife. But located right in the heart of Alappuzha is Revi Karunakaran Memorial Museum, which's one of its kind museum built by a wife in memory of her husband. Revi Karunakaran who is deemed to be the architect of the modernized coir industry of Kerala was an avid traveller. On display in this museum are unique art pieces that Revi and his forefathers collected over three generations from across the world.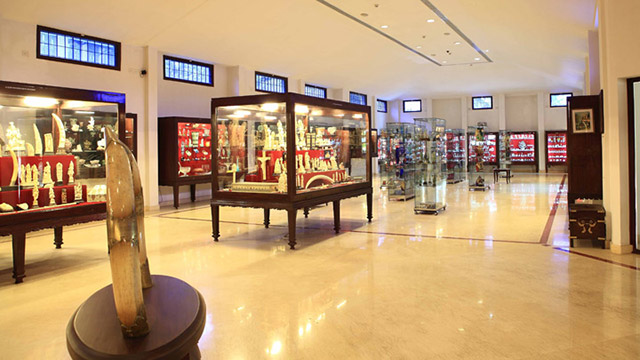 This museum houses the biggest privately held collection of crystals in the world. Those of you who are genuinely interested in crystals, ivory art, mural art, sculptures and Kerala heritage, should add this museum to their list of places to visit in Alleppey.
Best Season to visit places in Alleppey
The charm of Alleppey is best enjoyed from September to February. Sailing around the backwaters, watching rainfall in water during the rainy season is romantic too. The sultry summer months from March-May are not recommended, but discount seekers might get to stay in the houseboats at attractive rates. Explore the best of Alleppey Tourism during this time.
Book your places to visit in Alleppey with Tyndis Heritage
Write to Tyndis about your tailored trip to Alleppey. Tyndis Tours ensures you of a holiday that will include the must-visit places in Alleppey as well as a few offbeat spots to fill your mind and soul with freshness. All our holiday package tours in Kerala follow COVID safety protocols laid down by WHO to make your vacation safe.