09 Nov 2018
Unique Theyyam in Kannur | Kathivanoor Veeran Theyyam | Theyyam Tour
Kathivanoor Veeran Theyyam in Kannur is the icon of bravery for the people of Malabar! The tales of Kathivanoor Veeran Theyyam in Kannur is till date so vibrant in the folklore of Kolathunadu.
Theyyam in Kannur is one of the top things to do in Kerala. Every year, according to the Theyyam Calendar, Theyyam in Kannur is performed in various temples and sacred groves. Tyndis have special Theyyam Tour Packages and Theyyam Photography Tours to experience Theyyam in Kannur. Kathivanoor Veeran Theyyam is one of the most attractive Theyyam in Kannur that can be experienced with Tyndis Theyyam Tour Packages.
Story of Kathivanoor Veeran Theyyam in Kannur
The story of Kathivanoor Veeran is a tragic one. It is also regarded as one of the greatest sacrifices to have been done in love and self-respect!
After long years of waiting and intense prayers to the deity of Chuzhali Bhagavathi, Kathivanoor Veeraan, the brave heart of Kolathunadu was born as the only son of Methalai Illathu Kumarappan and Parakai Illathu Chakkiamma. He was born in Mangat Parakai Illam near Taliparambu, a place in the present day Kannur. The baby boy was named 'Mandappan' by the parents.
During the time of Mandappan, it was the traditional custom in North Kerala to train the kids to excel in Kalaripayattu, a traditional martial art. Mandappan was extremely good at martial art and soon was involved in hunting and other skilled activities. As a child, he used to go for hunting with a bow and arrow.
As time passed, Mandappan had to earn for the family as per the customs of the village. But Mandappan always wanted to spend time and enjoy with his friends and never wanted to earn for the family. Moreover, he was losing his control over life and had already begun doing ill activities like consuming alcohol and eating non-vegetarian food which was prohibited in his family.
Seeing the laziness and ill habits of his only son, Kumarappan, the father of Mandappan was very much desperate and heartbroken. One day he advised him to do a certain job but he summarily rejected it. This led to a quarrel between Kumarappan and Mandappan. Mandappan had slowly grown into a rebel and very much defied the words of his father. Chakkiamma, his mother was also in deep sorrow by seeing the quarrel between father and son.
The situations between the father and son grew bad in the family and one-day Kumarappan warned Chakkiamma not to provide 'Kanji' – local rice porridge to Mandappan from the home anymore if he is not willing to do any job.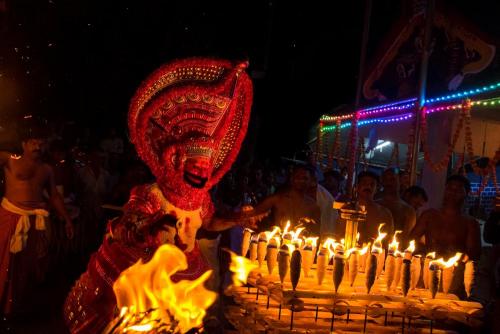 Kathivanoor Veeran Theyyam Rituals
The same day, after the father left, a hungry Mandappan came to the house and asked Chakkiamma to provide him with the food. Succumbing to the love of a mother, she fed her hungry son. Kumarappan came seeing this sight and grew angry at both Mandappan and Chakkiamma. He teased Mandappan for being so shameless to eat from home without doing any job worth it!
The words from his father made Mandappan extremely angry and heartbroken at the same time and he took the decision to leave his house forever. Mandappan left the house to nowhere, only carrying his beloved bow and arrow as the belongings.
As Mandappan was roaming around like a wanderlust, he met his friends who were heading to Kodagu (present-day Coorg) for trade. Mandappan announced that he will also accompany the pack to Kodagu. The friends who knew about the lazy behaviour of Mandappan believed that he will be only a headache for them amidst the journey. And hence they were not willing to take him.
Any way Mandappan joined them and during the journey, the friends gave him too much toddy (alcohol) and meat and made him to sleep for hours and they fled leaving him alone under a tree. When Mandappan woke up, he came to know about the bitter truth. But he did not give up and started his journey to Kodagu all alone.
Kathivanoor is a place near Coorg, a border place between Kerala and Karnataka State, where Mandappan had an uncle. Mandappan took shelter in his uncle's home at Kathivanoor. He soon began dedicated to his life and started to do agricultural works and he owned certain plot from his uncle.
One day while travelling across the countryside, he met a lady named Chemmarathi, from a place called Velarkot and decided to marry her and settled there. Both of them led a happy life with prosperity flourishing in their house. But gradually Chemmarathi grew suspicious in his movements. Once she even abused him for his long absence from home. He consoled her swearing that he was not unfaithful to her. However bad days were in front of them.
The village of Kathivanoor was invaded by brigands from Mutharmuti a cop from Karnataka. As a man trained in the weapon, Mandappan could not bear it and defended the invaders until they were thrown away from the land. He defeated the cops but during the fight, he lost his ring in the battlefield. He considered it shameful for a hero like him and returned to the field in search of his ring. Suddenly the same enemies fell upon him and stabbed him and cut him into many pieces with a sword.
When Chemmarathi heard the news of the tragic murder of her beloved, she rushed to the battlefield. As an embodiment of bravery she also fought with the enemies and defeated them. Finally, she collected the fragments of her husband's body and arranged a funeral pyre and herself leapt into the pyre and burnt into ashes.
The spirit of Mandappan was worshipped in a shrine and later it was well known as Kathivanoor Veeran. The story of Kathivanoor Veeran and Chemmarathi is still an inspiration for the brave-hearts in the Malabar region.
Experiencing Theyyam in Kannur – Theyyam Tour Packages
Learn more such interesting stories about Theyyam in Kannur with Tyndis Theyyam Tour Packages with a storyteller. If you are a photographer, then Theyyam in Kannur will provide you with the best avenue for clicking some stunning frames.
Get in Touch with us for more details about Theyyam Season, Theyyam Calendar, Theyyam Tour Packages and Theyyam Photography Tours.