14 Jan 2020
City of three C's – Thalassery Tourism | Tyndis Tours
Thalassery (formerly known as Tellicherry) hosted one of the British Navy's major naval barracks along the Arabian coast. In the colonial era, it was the centre of learning in north Kerala. Thalassery Tourism is famed as the city of three C's – Cake, Cricket and Circus. This beautiful idyllic town lies in Kannur, on the Malabar Coast of Kerala.
Thalassery Tourism and Thalassery tourism places like Thalassery beach have always lured tourists. Thalassery Food is heaven for food lovers. Checkout Tyndis Thalassery Food Tour here. It is one of the best Thalassery Tour. But this Thalassery Tour Blog is not about Thalassery Food. It is but as mentioned above, about iconic 3 C's of Thalassery Tourism.
Three C's of Thalassery Tourism
The glorious game of cricket and the cake recipe are the two great legacies left behind in India by the British – which has its origins here. Let's read on to find fascinating facts connected with Thalassery tourism related to Thalassery circus, Thalassery Cake, Thalassery Food and much more!
1. Mambally's Bakery – The 1st bakery in India
Quiz any Indian to guess the place where the first Christmas cake was baked. The answer may be Goa, Mumbai or Kolkata. Barely anyone maybe knowing that in a small coastal town of Thalasserry in North Kerala was the first Christmas cake baked, way back in 1883. Thalassery cake is an interesting fact in history.
Mambally Bapu, a well-travelled trader set his first bakery by the name 'Mambally Royal Biscuit Factory', way back in 1884. Till date, expatriates from USA and UAE place huge orders of Christmas cakes from bakeries set up by branches of the Mambally family in Thalasserry. So on your visit to Thalasserry, remember to get yourself a slice of history with a Thalassery Cake. For those who have visited Thalassery Tourism knows how tempting Thalassery Food are.
2. Thalassery Cricket
After Thalassery Cake, comes the story of Thalassery Cricket. While cricket is the most popular sport in India, not many know that the origins of the game could very well have been in a commonplace town in Kerala around 1800. It is said that Sir Arthur Wellesley who was stationed at Tellicherry as the Commander of Malabar, used to play cricket regularly along with the British soldiers in a ground near a washer men's colony.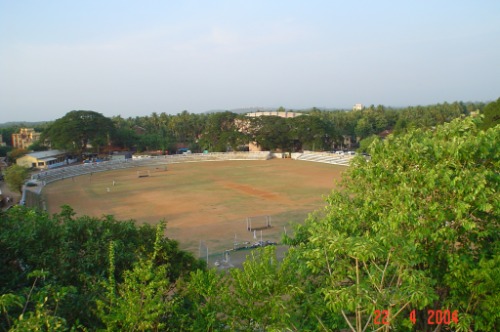 Sir Arthur Wellesley used the snooping young boys as fielders to fetch the ball. Later, he established The Town Cricket Club in 1860, drawing its members from the elite of society. Famous English cricketer Colin Cowdrey's father, who was a tea planter in Thalassery used to play cricket in Thalassery during the 1890s. Experience stories of cricket in Thalassery Tour with Tyndis.
Thalassery Stadium, also known as the Thalassery Municipal Cricket Ground hosts the Ranji Trophy. A member of the Kannur district Cricket Association has a private cricket museum in the upper floor of his bungalow. It is also one of the Thalassery Tourism spots for cricket lovers.
3. Thalassery Circus
Keeleri Kunhikannan, regarded as the father of Indian Circus, was born in Thalassery in 1858. He was accomplished in Kalarippayattu, the traditional martial art from Kerala. He also studied the modes of gymnastics and sports as practised by the British officers who came to Thalassery.
Circus companies usually travel in many cities showing their performances. Vishnu Pant Chatre who began his circus company in Bombay in 1880, arrived at Thalassery. Seeing Thalassery circus lacked trained gymnasts, Keeleri Kunhikannan approached Chatre to offer training to acrobats for his Thalassery circus company.
Thus, in 1901 Kunhikannan inaugurated a circus school in Chirakkara, Kollam. Many performers of the class who could perform crowd-pulling stunts and applause were churned out from this circus school. Several alumni of this school went on to open their own circus companies. In those times, several young people looked up to the circus as a lucrative means to make a living. Thalassery circus is even today, a major attraction of Thalassery Tourism.
4. Sree Thodeekalam Shiva Temple
Located in Kannavam, near Thalassery many art lovers throng to the 2000 year old Thodeekalam temple to appreciate the 150 mural paintings drawn in about 40 panels and walls in this relatively small temple spread in an area of 700 sq.ft.
The scenes from the epic like Ravana Vadham, Rukmini Swayamvaram and the village life from 16th to 18th centuries are some of the scenes depicted in these murals. The beautiful natural pigments and the striking expression of the characters in the painting are valuable works from times gone by. Mural painting at this temple is a pride of Thalassery Tourism. It is one of the top Thalassery tourism places to visit.
Ancient mural art techniques are taught at the Vasthuvidya Gurukulam where interested people can enrol and learn.
Now that you know the importance of Thalassery, do Get in Touch with Tyndis to plan storytelling Thalassery Tour for yourselves. Tyndis can curate customized Thalassery Tourism Packages with top Thalassery tourism places in Kannur.