13 Dec 2019
Best 7 Traditional Ayurveda Hospitals in Kerala picked by Tyndis
Ayurveda Treatment in Kerala has great acceptance globally. Check-out the list of best Ayurveda hospitals in Kerala that provide authentic Ayurveda treatment in Kerala.
Today, Kerala is a global medical tourism destination! International celebrities and tourists have been visiting Kerala not just to enjoy the beauty of the backwaters but also to experience the centuries-old tradition of Ayurvedic massage.
There are hundreds of centres for Ayurveda treatment in Kerala offering both rejuvenation programmes (Rasayana Chikitsa) as well as therapeutic programmes for various ailments. Unfortunately, several tourists are exploited by visiting centres which are run by unqualified practitioners administering fake ayurvedic services.
To differentiate the quality of facilities offered, Kerala Tourism has introduced the concept of 'Green Leaf' and 'Olive Leaf'. Former is given to centres of Ayurveda treatment in Kerala which provide 'five-star' facilities while the latter is for the centres in 'three-star' category. In this blog, Tyndis is trying to handpick seven best Ayurveda hospitals in Kerala known for its service and authenticity when it comes to Traditional Kerala Ayurveda.
What is Ayurveda?
"Ayurveda" is one of the world's oldest holistic healing system that is based on the belief that health and wellness depend on a delicate balance between the mind, body, and spirit. Its main goal is to promote good health through a disciplined treatment mode where there is little place for pleasure. For this reason, many of the traditional practitioners of Ayurveda treatment in Kerala offer very effective therapeutic services but have very basic facilities in their premises. Tyndis recommends these authentic practitioners in our list of best Ayurveda hospitals in Kerala. If it is difficult to put up with the basic facilities, then we can suggest fine home-stays nearby to retire in the night.
The treatment methodologies followed by every genuine centre for Ayurveda treatment in Kerala is almost the same. In the primary consultation, the doctor determines your body type and the root cause of the disorder. Based on this diagnosis, a customized treatment is scheduled and based on the body's response, treatment is tweaked periodically.
A daily regimen involves waking up early, practising yogic exercises, meditation, undergoing Ayurvedic treatments, having simple vegetarian food, giving up addictions and afternoon naps, and having medicines for comprehensive healing.
The three seasons from mid-July to mid-August, mid-October to mid-November and mid-February to mid-March is when the weather condition is moderate and is best suited for conducting Ayurveda treatment in Kerala.
Tyndis picks these seven Ayurvedic centres where Ayurveda is practised in its traditional and authentic form. This is undoubtedly the list of Best Ayurveda Hospitals in Kerala.
1. Kottakal Arya Vaidya Sala
The most popular Kottakal Arya Vaidya Sala was founded in 1902 by the visionary physician and philanthropist, late Vaidyaratnam P.S. Varier at Kottakkal in Malappuram district, Kerala. Started essentially as a village clinic, it has 26 branch clinics across the country and runs three best Ayurveda Hospitals in Kerala (at Kottakkal, Aluva and Kochi) and one in Delhi. 550 genuine ayurvedic medicines are manufactured in their three units.
This centre believes strict mental discipline and adherence to moral values are a pre-requisite for health. According to them, Ayurveda recognizes that the mind is very powerful both in the causation and cure of diseases. Therefore the objective of Ayurveda treatment here is to maintain positive health and treat diseases.
There is an ayurvedic college, research centre, hospital, and a museum in their Kottakal premises. The museum documents the renaissance movement in the field of Ayurveda and epitomizes the history of Ayurveda in the late nineteenth and twentieth century. Treatment rooms are available to suit a range of budget.
Address: Vaidyaratnam P. S. Varier's Arya Vaidya Sala, Kottakkal (P.O.), Malappuram
2. PVA Ayurvedic Multi-speciality Hospital
It is one of the best Ayurveda hospitals in Northern Kerala that has got Green Leaf Certification from Kerala Tourism. They practice the age-old tradition of Ayurveda treatment in Kerala, under the guidance of a very competent team of ayurvedic physicians like Dr Abdul Rahman Poilan, and well-trained paramedical staff.
Rejuvenative therapy has therapeutic potential to delay the process of ageing and to improve quality of life and maintain positive health. All traditional ayurvedic therapies like Abhyanga, Shirodhara, Panchakarma, Navara Kizhi, Sarvanga Dhara and Yoga are offered here. They prepare their own medicines from their herbal garden. The group also runs PVA School of Ayurvedic Studies.
A decent accommodation facing the backwaters and free wi-fi connection are provided in all rooms.
Address: Kattampally-Kottali Road, Kannur, Kerala
3. Vaidyaratnam Oushadhasala
Vaidyaratnam claims that it offers effective treatment for a range of disorders such as Paralysis, Spondylitis, Osteoarthritis, Slip Disc, Parkinsonism, Avascular necrosis, Depression, Migraine, Sinusitis, Skin diseases and Pediatric diseases.
The Eledath Thaikkattu family physicians were innovators and among the few early established names in Ayurveda treatment in Kerala. They adhere to the Ayurvedic protocol of not indulging in jogging, brisk walking, swimming or any kind of strenuous work during the treatment to allow your body to absorb the effects of treatments. Only yogic breathing, meditation and relaxation techniques are advised under the supervision of yoga instructor. Listening to soothing music and light reading is allowed though.
They have a museum on the premises that narrates the story of Ayurveda, its evolution and how this tradition is preserved in modern times. There is a range of accommodation provided from cottages to suits, rooms with view to ordinary rooms. But a three months advance booking is expected. Vaidyaratnam is one of the best Ayurveda hospitals in Kerala.
Address: Ollur, Thaikkattussery, Thrissur, Kerala
4. Anjali Ayurvedic Research Centre
As every person has a unique constitution, the imbalances in their health are expressed in a unique way, therefore every patient who walks into Anjali centre for Ayurveda treatment in Kerala is not offered a standard generalized treatment package. Rather, each individual is offered a personalized treatment after an in-depth consultation. For lasting results, clients are suggested potential lifestyle modifications specifically to address their needs and imbalances.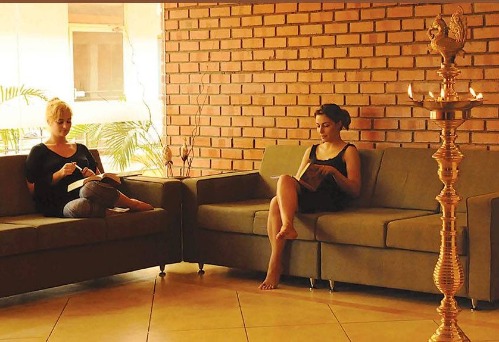 At Anjali, they offer treatments for a large number of illnesses such as arthritis; various skin diseases; digestive disorders; psychosomatic conditions; autoimmune disorders such as psoriasis; multiple sclerosis, etc. and Panchakarma therapy for cleansing, detoxification and rejuvenation.
The accommodation has premium facilities but they take in a very limited number of patients each month. It is one of the best Ayurveda hospitals in Kerala by treatment quality and facilities.
Address: Union Complex, Near Indus Motors, South Bazar, Kannur, Kerala
5. MGS Kalari Chikithsalayalam
Kalari massage (marma chikitsa), a 5000 years old traditional and scientific method for physical and mental health and yoga is practised at this Kalarippayattu or martial art centre. Marmas are the 108 pressure points within the body usually close to the surface of the skin, where important nerve form junctures with muscular fibres, veins, bones and joints. Any disturbance or trauma to these marma points manifests as severe pain or deformity.
Different types of oils having various medicinal properties are prepared in-house and used for massaging those energy points. Kalari masters (martial art masters) treat such patients with self-prepared herbal paste. Dineshan Gurukkal who has been in the Kalari field for the last 42 years is the Kalari master of this centre.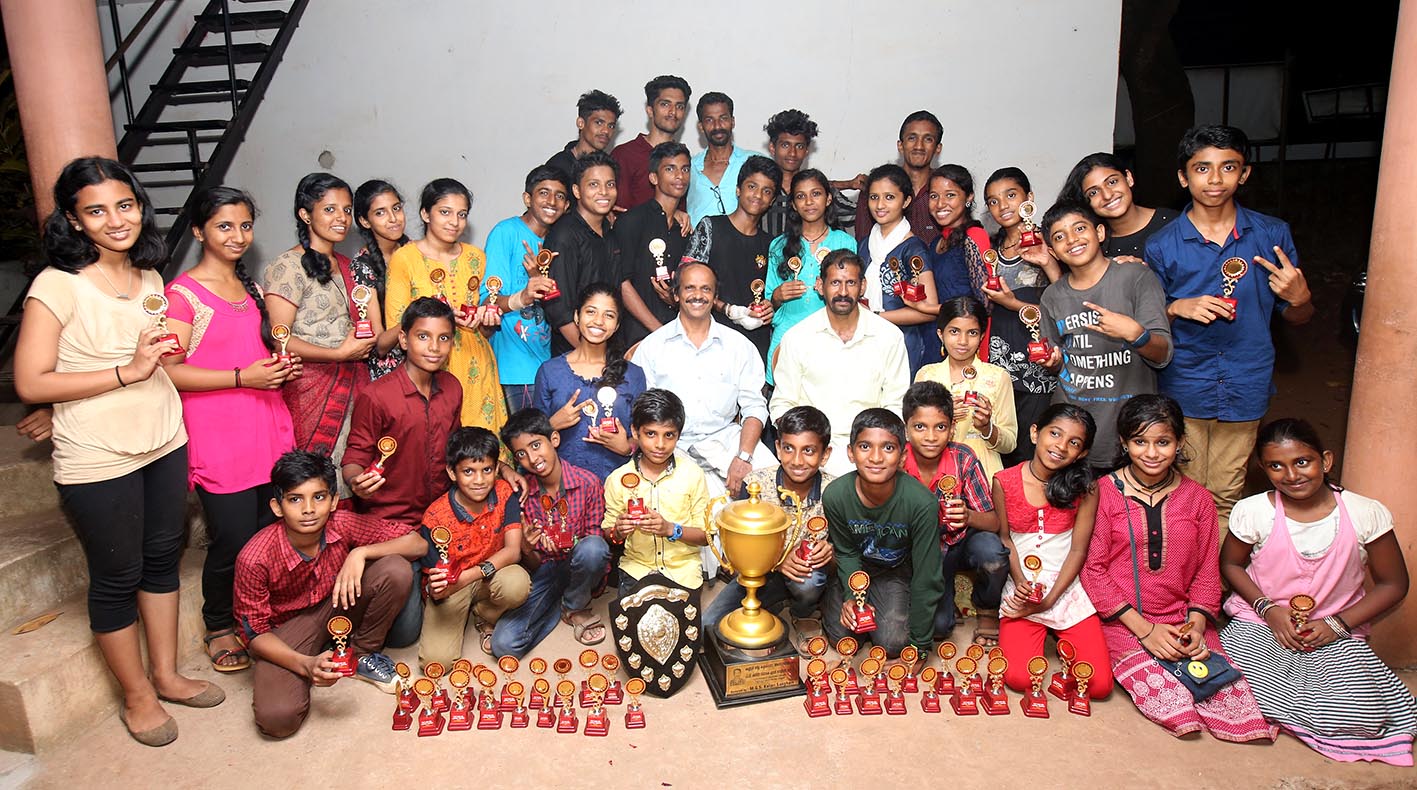 Sprain, broken bones, arthritis, spondylitis, rheumatic pains are efficiently treated here with Kalari massage. After the full course of the massage, the muscles, nervous system, joints and blood circulation will bounce back to normal condition.
Kalari hand massage service is renowned for releasing body toxins and increasing blood circulation. Kalari massage strengthens the body by relaxing and opening up energy pathways and by maintaining the stability of the three life energy forces such as Vata (movement), Pitta (digestion) & Kapha (structure).
For complete relaxation and to stimulate the internal functions of the body, their skilled masseurs offer four-hand or six- hand massage to help in the case of insomnia, laziness, exhaustion, dry and unhealthy skin. We suggest you contact us for booking accommodation outside.
Address: Kunhipalli, Kottali (P.O), Kannur, Kerala, India
6. Ashtamgam Ayurveda Chikithsalayam
'Ashtamgam' is a centre for Ayurveda treatment in Kerala, set in 11.5 acres of land in tranquil countryside, amidst coconut trees, a medicinal garden and a picturesque lake. The aesthetically designed treatment facilities adopt a holistic approach to healthcare, combining all the traditional systems such as Ayurveda, Yoga, Naturopathy, Kalari, Jyothisham and Vasthu along with modern medical knowledge. Ashtamgam is not only one of the Best Ayurveda Hospitals in Kerala, but also a leading Ayurveda learning centre.
They have a research unit and residential Ayurveda education institution. To address various needs of the patient there are departments specializing in sports medicine, geriatrics, gynaecology, adolescent-related ailments, skincare, lifestyle preventive care and many more.
In-patients are accommodated in air-conditioned rooms, cottages, economy rooms and general wards.
Address: 4/495A, Vavanoor, Koottanad, Palakkad Dt., Kerala
7. Dhatri Ayurveda Hospital & Panchakarma Center
Formerly, this centre was known as Warriers hospital. Late Shri. Parameswaran Vaidyar was believed to be Godsend, as people felt he was gifted with spiritual powers of healing, and could cure any kind of disease. He founded this hospital and his family has been practising Ayurveda treatment in Kerala for over three hundred years.
At present, his grandson Dr Sajikumar has ushered in a revolution by making Ayurveda treatment in Kerala more accessible to the masses and has pioneered the use of scientific research and clinical studies to improve the quality and efficacy of various treatments and products including classical and patented Ayurveda products. It is one of the best Best Ayurveda Hospital in Kerala towards the south.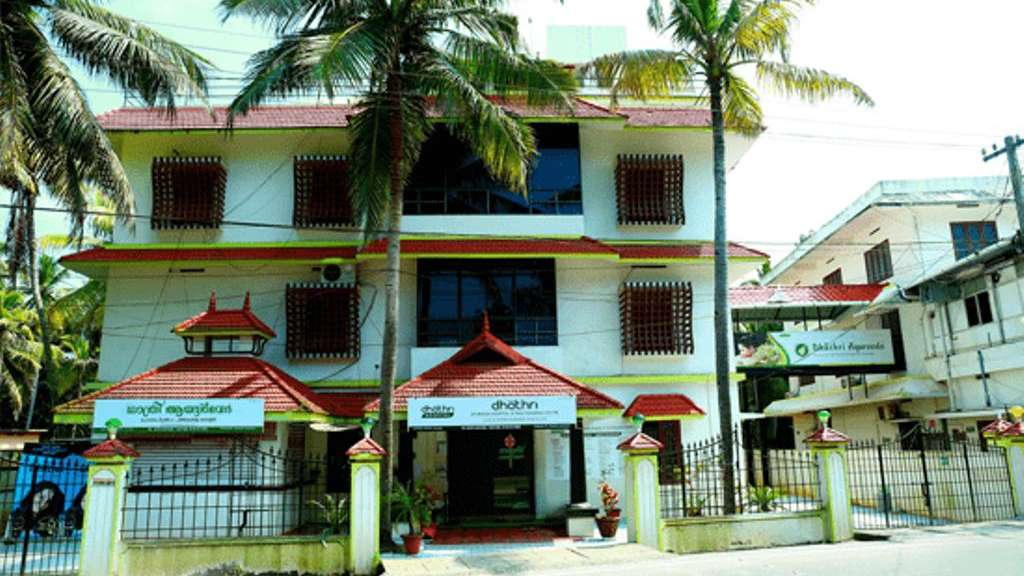 The centre offers packages for anti-stress, speciality treatments for spine and joint disorders, skin and hair problems and lifestyle disorders. If you are looking for a luxury stay here, you will be disappointed.
Address: Puthiyavila .P.O, Velanchira, Kayamkulam, Kerala.
Ayurveda has been in practice for centuries and its efficacious are proven. The evolution of Ayurveda has in fact resulted in the setting up of the best Ayurveda hospitals listed in this blog.
Ayurveda treatment in Kerala offers long-term benefit for the body and compliments modern Allopathic medicine. The Ayurvedic system of healthcare is based on a disciplined approach and it does not offer an instant remedy.
So, if you have the patience, time and belief that this 6,000 years old tradition can offer a holistic cure, then Get in Touch with us. We can arrange for good accommodation near to your choice of the Best Ayurveda Hospitals in Kerala.